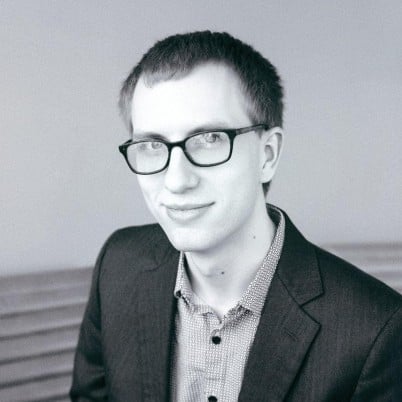 Post by Nathan Hewitt
Finding Donors for Your Art: DIY Prospect Research for Artists
Artists are fantastic multitaskers and project managers. Often, in the course of a single day, you might function as everything from a creator, to a curator, editor, manager, assistant, fundraiser, and gopher. Never mind going to the grocery store! So when it comes time to find people who will support your projects, it's hard to find time to start. Thankfully, finding prospective donors to support your work isn't as mystical as it seems. A little bit of research can go a long way!
Something many people don't know is that prospect research is completely focused on your existing network. The truth is, people who don't know you or your work (and don't know someone who does) are very unlikely to donate. Professional prospect researchers aren't searching for new people to connect with, but rather taking names of ticket buyers, donors, volunteers, board members (if you have any), and other connections in order to evaluate potential donors and prepare you to ask them for funding.
Large nonprofit organizations will have dedicated researchers on staff or pay organizations like Helen Brown Group or Donorly who use hefty databases such as DonorSearch, iWave, and LexisNexis to create comprehensive donor profiles. While these services often have a pretty good return on investment, they might be too costly for most artists or small projects. The core concepts of prospect research, however, can apply for organizations of any size. By adding a simple prospect research process to your regular routine, you can streamline your fundraising strategy and be a more effective fundraiser!
As a former professional Prospect Researcher, I am well-acquainted with the ins and outs of what to look for in a potential donor. I assisted numerous nonprofit organizations with their fundraising planning. Combined with my experience as Program Associate at Fractured Atlas and in the arts fundraising world more generally, I hope my expertise can help you meet your fundraising goals!
Prospect research is the first step in the process of fundraising, which can be broken into four-ish steps:
Prospecting
Cultivation
Solicitation
Stewardship
Just as we were with our guide to stewardship, we're excited to share a quick start guide to building a prospect research plan.
This post outlines a step-by-step, do-it-yourself process for that first step: identifying donor prospects. We're primarily focusing on individual donors since foundation and corporate sponsor prospects could be a whole blog post on their own. (In fact, we've written about them here and here.) That said, foundations and businesses are run by people, and this guide's concepts can be helpful for identifying family foundations and local businesses that might be willing to support your work.
Donor Affinity, Donor Propensity, and Donor Capacity: The Attributes of Donor Prospecting
Prospect research is the process of researching potential donors in preparation for a fundraising push. The overall goal is to have a better understanding of donors and whether or not they might be interested in making a donation. It also helps with knowing how much money (or non-financial support) to ask for!
There are three fundamental attributes by which we can measure the likelihood of a donation from potential donors: affinity, propensity, and capacity.
Affinity: How well connected is the prospect to you and your project?
Propensity: How accustomed to supporting artists and organizations are they?
Capacity: How much time, money, or other resources do you estimate that they can give?
A distant wealthy relative might have low affinity but high propensity and capacity. Your best friend might have high affinity but medium propensity and capacity. Or maybe the opposite! Every person is unique, and these three areas of measure help to quantify something which can be difficult to predict.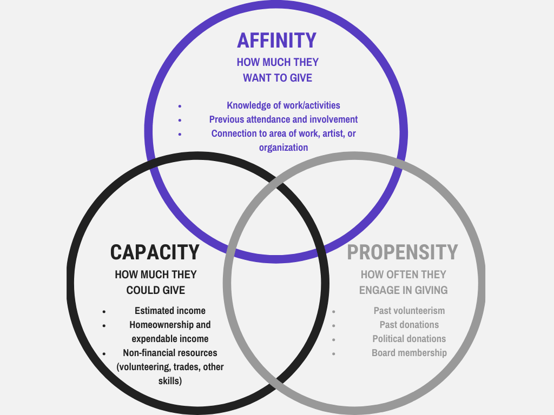 A note on privacy: This process looks only at publicly available information. Even so, it can sometimes feel a bit strange to dig into the lives of people you know or people you've just met. The goal of this process, however, is not to get "insider" information, but rather to prepare you for and guide your fundraising strategy. The less you already know about your people, the more useful donor prospecting will be.
Getting Started with Prospect Research
Time to get organized! The first step is to organize your source materials and prepare for your research. In many cases, the simplest thing to do is set up a spreadsheet. The first column will be for names. You can populate the spreadsheet with the following:
Mailing list recipients
Past donors
Your friends and family
Professional connections
Current and former peers and collaborators
Social media followers
(Everyone else you know!)
If you use a CRM (Customer Relationship Manager) or Donor Management platform—spoiler alert, you should!—then you can just export the database and use that as a starting point.
Once you have your list of everyone, you can start adding in columns for your prospecting:
Affinity (How Much They Could Want to Give)
Knowledge of work/activities
Involvement and attendance at past work
Connection to the area of work or connection to the artist/organization
Propensity (How Often Do They Engage in Giving)
Past volunteerism in other organizations
Donations to other organizations and political giving
Board membership
Capacity (How Much They Could Potentially Give)
Estimated income (based on job title, etc.)
Homeownership and expendable income (size of past donations)
Non-financial (expendable time, skills, and mind-space)
Here is an example template for how you could organize a prospect research spreadsheet. You can also include any information from the CRM that you feel is appropriate. Another trick that is not in the template is to create a "sum" subtotal for each category (e.g. affinity, propensity, and capacity). It depends on what works best for you!
Researching Potential Donors
Now we're ready for the next step: research. As you go through the process of researching these donors, feel free to take notes in your CRM. You can then use what you find to rate each aspect of each prospect on a scale of 1 to 5.
Prospect research starts the same place any research starts: Google. Except, don't use Google — I recommend using DuckDuckGo.com or another search engine that does not track your online activity. (Also, I have a lot of thoughts about security and privacy tools for artists!)
Begin by searching the prospect's name. If they have a common name, you can try entering a location or organization name along with it. As you look through the results, just make a few notes to yourself. You can put these in a notes column in the spreadsheet or, if you use a CRM, you can add them to the database and include any information you find. Make note of their job, what they have been involved in, and anything else you run into. If you see them acknowledged on a nonprofit website, make sure to note that as an indication of propensity.
If you want to be thorough, look at the first three pages of results, and try potential nicknames as well. That said, it doesn't have to be a comprehensive biography! Just some basic information.
For some folks, that basic research (combined with what you already know about them) will be enough to help you "rate" each category. In some situations, however, there is more that can be done.
LinkedIn
LinkedIn can be an excellent source of employment information, although not everyone's profile is indexed by search engines. It is one of the easiest ways to learn about a donor's education background and employment history, both of which can help with determining their interests and capacity. One thing to note is that when you look at people's profiles on LinkedIn, they can see that you have done so. In many cases, this is fine, but it can also feel a bit weird. For this reason, when I was a prospect researcher, I created a fake LinkedIn profile #SorryNotSorry. You can also browse in Private or Semi-Private Mode on LinkedIn.
Political Giving
It might not be fun to see where a supporter stands on the political spectrum, but political giving is a strong indicator of propensity and can also indicate capacity. To see what gifts someone has made, go to the Federal Election Commission's individual contribution data and search for the prospect.
Home Value
If you have the prospect's address, you can use Zillow or (if you are looking in New York City) StreetEasy to determine the value of their home. One thing to remember, however, is that they may be renting. The only way to confirm ownership is to go to the real estate records for the city or county in which they live. In some cases, this information will not be publicly available or available online, but if you are trying to ascertain a prospect's level of wealth, this can be a good source. For an advanced discussion of these concepts, see this post by iWave.
Family Foundations
If the person you are researching comes from a wealthy family, they may have a family foundation. It can be useful to see what kinds of donations that foundation tends to give and whether or not the prospect is on the foundation board. To find this information, go to GuideStar and search "LastName Family Foundation." For more advanced searches, you can sign up for a free account with GuideStar. Be careful, however, not to spend an inordinate amount of time on this. There are other methods of family giving, such as donor-advised funds, which would not be visible in GuideStar (or on its more powerful cousin, Foundation Directory Online).
C-Level Executives and Board Members at Publicly-Traded Companies
If the prospect is a top-level executive for a publicly-traded company (i.e., one on the stock exchange), you will probably be able to look up their income and stock ownership. Sure, you might as well just put a "5" for financial capacity and move on, but if you want to be thorough, you can use the U.S. Securities and Exchange Commission's EDGAR search to look up the company. Once you select the correct company from the search results (sometimes this takes a couple tries), enter "DEF 14A" into the Filing Type and search. Navigate to their most recent DEF 14A using the associated documents button, use your browser's "Find" function and search your prospect's name, and all of a sudden you will have much more financial information on the prospect than you could ever need.
An Example of Prospect Researching
For most prospects, a simple browser search will do the trick. Even though they might be able to make a big splash, the above examples of wealthy families and C-level executives are not the norm.
For example, let's look at a hypothetical nonprofit worker named Ethan, living in New York City and making the city's median individual income. We'll rate Income as a 3, but since he is in New York City where living expenses are high, we'll put Expendable at 2. Let's say Ethan has attended a couple of your performances but never volunteered or made a donation. We can give him Knowledge of 2. Ethan recently signed up for your mailing list, putting him at something like Involvement level 2, but he is involved with similar projects, so you might put him as a 4 for Connections. And you know that he volunteers a lot and has some skills to offer, putting Volunteering and Non-Financial at 4.
What do we end up with? A rough guide of how Ethan can help you and how you can engage with him. Certainly, these ratings are quite subjective and comparative. If you are just starting your first fundraising campaign, a 5 to you might be different from what a 5 would be for a seasoned fundraiser and grant recipient with a much deeper pool of connections and prospects. As you research more and more people in your network, you should start to get a sense of how they compare to one another.
Once you add a rating, it isn't set in stone! After all, what is the difference between a 2 and a 3, or a 3 and a 4? For example, feel free to go back and adjust Ethan's rating if you find that his income is relatively high compared to your other connections. The purpose of these ratings is to help guide you as you make decisions about your project.
What conclusions can we draw about this example prospect? Well, we can conclude that Ethan might be a good fit for volunteering for our organization, especially as he learns more about the work. We can also conclude that he is a good person to ask for money, but not for larger donations. He would probably be good to ask for a small monthly gift or a crowdfunding donation.
One of the ways that prospect ratings like these are most useful is for segmenting your mailing lists and solicitation letters. When you ask for money for your project, you don't always have to ask everyone. There are many strategies for this, including using different communication for donors and non-donors or reaching out to higher-income prospects differently from folks with limited means. This allows you to be more specific with your language and what you ask of potential supporters.
It's Not All About Money
While the process of prospect research can help you prepare and plan your fundraising strategy, people will be unpredictable. These are real people! People cannot be reduced to a number. Your interactions with potential donors will not be purely transactional.
Since you will know many of your supporters personally, there is a bit more at stake than just money—these are sometimes long-term relationships that matter beyond the scope of funding your project. This is why we recommend thinking about building a community around your project and bringing your supporters into your work, rather than looking at donors as revenue sources to be maximized. Take these ratings into account, but remember that there is no replacement for authentic relationship building. Consider your values before you start to fundraise.
Another thing to note is that donors' capacity will change, as will their affinity and propensity, whether because of unexpected expenses or other life events. Once you go back and update the prospect spreadsheet, consider also whether or not the way you reach out to them might need to change. Even if they are no longer able to give financially, there might be other, non-financial ways for them to help you or engage with your work. Don't let money be your sole focus when looking at potential supporters!
Moving Forward with Prospect Research
Prospect research is by no means a scientific exercise. It won't be perfect! But quantifying these attributes is a good way to ground your fundraising efforts in reality and start to build a cohesive development strategy.
At Fractured Atlas, we know that it takes an invested community to support artists, and are here to help you with the tools and the knowledge to build that community. At its heart, prospect research is one way that you can learn more about the people who care about your work-what their interests are and how you can best build a relationship with them.
Some members of your community will be able to support you financially, others might be able to help by volunteering their time or expertise. By spending the time to build meaningful relationships with your donor community, you'll create a more engaged community that can better support your vision.
More posts by Nathan Hewitt
About Nathan Hewitt
Nathan Hewitt is a nonprofit arts professional and contemporary musician. Prior to Fractured Atlas, Nathan worked with Donorly, Actors Theatre of Louisville, the Norton Center for the Arts, Naco Wellness Initiative, WRFL Radio Free Lexington, and Binge Culture Collective. Originally from Indiana, he is a former Gaines Fellow at the University of Kentucky. Nathan believes that artists, organizers, and nonprofit organizations together have the power to create a more just and equitable society.