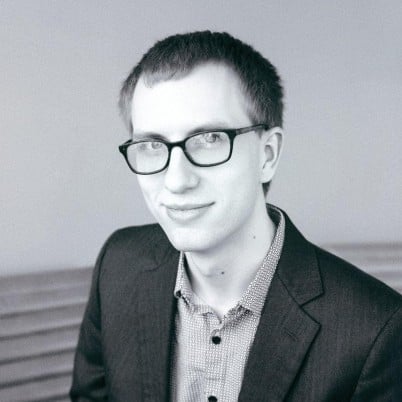 Post by Nathan Hewitt
Keeping Donors Happy: A Donor Stewardship Guide for Artists
When you're raising money as an artist, it's easy to spend all your energy on soliciting new donations. Whether you're busy leveraging connections, creating crowdfunding campaigns, writing solicitation letters, crafting elegant social media communications, or all of the above, it can feel like a full-time job. Once the donation finally comes in, however, things are just getting started.
For professional fundraisers, it is a full-time job. The internet is home to many excellent strategy guides on gratitude, retention, stewardship, and donor relations for organizations with a full development department. One of the challenges, especially for artists and smaller arts groups, is that there isn't time or money for donor retention. But as with any obstacle, you can also see this as an opportunity - a chance for you to be creative and #MakeItHappen!
Like any friendship (or potted plant), relationships with donors need regular attention. Even small investments in these relationships can make a big difference. By maintaining and cultivating your connection with your supporters, and using a simple donor stewardship plan you can build a foundation of support for years to come. Stewardship is simply taking care of the people who have taken care of you.
Donor Stewardship is Building Community
In the professional fundraising world, donor stewardship is often thought of as a transactional process of moving donors up a set of stairs, or up levels of a pyramid. As artists and small organizations, however, you will often have a personal relationship with your supporters.
Rather than looking at donors as revenue sources to be maximized, think about building a community around your project, and bringing your supporters in to your work. One way to visualize this is as a target with concentric circles and your project or organization at the center, where the cultivation and stewardship process guides donors from the outer rings (heard about work, bought a ticket) to the inner ones (major supporter, regular attendee, etc.).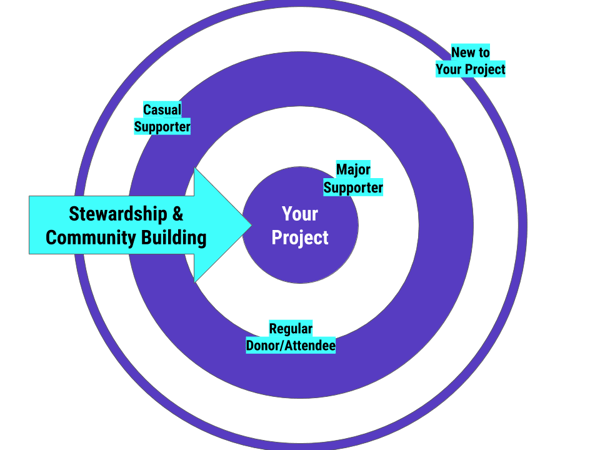 Overlaying these concentric circles over your network allows you to maintain your understanding of each donor's situation and relationship with your work. Sometimes donors' capacity to give will change, whether because of unexpected expenses or other financial concerns. With a community-building focus, you can recognize that they may have other, non-financial ways to help (pro-bono work, spaces and venues, food, volunteering) or that they may still want to learn more about the work.
This is donor-focused relationship building, not donation-focused revenue generation. Donor stewardship is not a process of sending donors up to the next tier; stewardship is bringing them in. And although it isn't always easy to bring people in to the artistic work—work that is often deeply personal—it is an essential part of building a financial foundation for your future endeavors. Here are a few ways to get started!
Track Your Donors in an Easy to Use System
A CRM, or "customer relationship management system," is the foundation for all of your future stewardship work. A CRM tracks your interactions with your supporters and can automatically log donations, ticket purchases, and more in a donor's record. It's like a list of donors, but on steroids, with advanced searches, "list segments," individual donor records, and more! If you don't have one, you need one: we've got some CRM suggestions for you.
If the donation isn't logged automatically, make sure to enter it in the donor's record, including any contextual information that could be helpful in the future. Then be sure to make a note for every interaction (or "touchpoint") with the donor, including thank-you communications, newsletters, and event attendance.
A donor's record can also be used to help you remember personal details about your donors. While for close friends or family, you might only log interactions with your work, for other folks you can keep track of major life events, job changes, moves, and accomplishments. You could even use a CRM to keep track of birthdays!
With each new donor, your CRM records will become more and more important, helping you avoid embarrassing moments (like sending someone three separate thank-you notes or misremembering your biggest donor's first name)! It is your project's ever-living robotic memory, and it frees up your mind-space to focus on making amazing and powerful creative work.
Show Your Donors Your Gratitude
Make sure to show your appreciation and gratitude for the donor's support! More important than the delivery method of your thank you message is the timing. Your donor should receive a thank you message as quickly as you are able, optimally within 24 hours of making the gift. If you don't have time to craft a full, genuine letter of gratitude, try and shoot them a quick message of thanks and let them know you will follow up with a longer message later.
Gratitude comes in many forms. There is no one-size-fits-all thank you message, but most will be addressed directly to the donor and include information about the importance of the donation, how the funds will be used, and the expected impact of the work they are supporting. To maximize effectiveness, try to focus on the future and include a couple personal touches. This means going beyond a standardized letter and tax receipt. There is only one major no-no: keep your "asks" separate from your "thank yous." Do not ask for anything from the donor.
When reaching out to the donor, try to use the communication method that makes the most sense to them. For younger folks and/or friends, this could be an online message or text. Businesses and grantmakers will expect a formal communication, but be sure to send a personal message to your contact(s) there. Many American donors will expect the standard thank you email and a hand-written note, and major donors may want a phone call. This is not universal, however, and your donor may have different expectations.
This is the kick-off of your donor stewardship efforts—the beginning of what will hopefully be a long-term relationship. Thanking the donor right after the gift can sometimes feel like a chore, or just another box to "tick." In some ways, it is. Over the next few months, however, there will be plenty of opportunities to express continued, genuine gratitude for their support. The thank you note is just the beginning.
Keep in Touch With Your Donors
This is the part that can feel nebulous and never-ending. When do you reach out to the donor? What do you say? Just as there is no one-size-fits-all thank you message, everything about donor stewardship is context-dependent. That said, I offer here a simple three-part donor stewardship plan for setting this up now so that you don't have to constantly worry about it later.
Plan three personal follow-ups with the donor over the next year. For example, make pans to reach out to donor(s) 1 month, 3 months, and 6 months after their donation. Alternatively, if they support a specific project, you could follow up at the beginning, middle, and end. The specific timing is somewhat arbitrary. Whatever you decide, add these follow-up dates to your calendar/organizer and forget about them for now.


When the selected date arrives, reach out via email, phone, or messenger (however you and the donor would be most comfortable). For major gifts, go with a phone call.


In your message or call, share the impact of their donation, your current work, and your future plans. If things didn't work out, be honest with them, and share how you plan to do things differently in the future. They might even have some good advice. The communication doesn't have to be long or time-consuming, and can be as short as a few sentences or a minute on the phone. (If they don't answer, leave a nice voicemail and don't worry about following up.) Remember, this is continued gratitude—do not ask for anything, and be thoughtful of the donor's time.
You've Now Built a Donor Stewardship Plan!
It's that easy. Do this for every donation and you will have built a basic stewardship program that will maintain your relationship with donors and increase the likelihood that they give again in the future. That said, you don't have to stop there. Try and think of things you already do that could be leveraged to connect with your supporters. It's an opportunity to be creative, but there's no need to reinvent the wheel:
Add them to your email newsletter/mailing list(s) for updates and future campaigns


Plan a simple donor appreciation event, like a happy hour for donors where you share for a few minutes about what you are working on (bring snacks, let them pay for the drinks)


Invite them to visit the studio or watch a rehearsal


Acknowledge them in your event programs


Send an end-of-year thank you message to all of your donors for their support—even the donors who gave back in January


And much more...
There are endless donor stewardship possibilities that can help you retain support. Over time, this process goes beyond just receiving a donation. This is about building a community around your work. Learn more about fundraising and building a community in our Ultimate Guide to Fundraising for Artists!
More posts by Nathan Hewitt
About Nathan Hewitt
Nathan Hewitt is a nonprofit arts professional and contemporary musician. Prior to Fractured Atlas, Nathan worked with Donorly, Actors Theatre of Louisville, the Norton Center for the Arts, Naco Wellness Initiative, WRFL Radio Free Lexington, and Binge Culture Collective. Originally from Indiana, he is a former Gaines Fellow at the University of Kentucky. Nathan believes that artists, organizers, and nonprofit organizations together have the power to create a more just and equitable society.