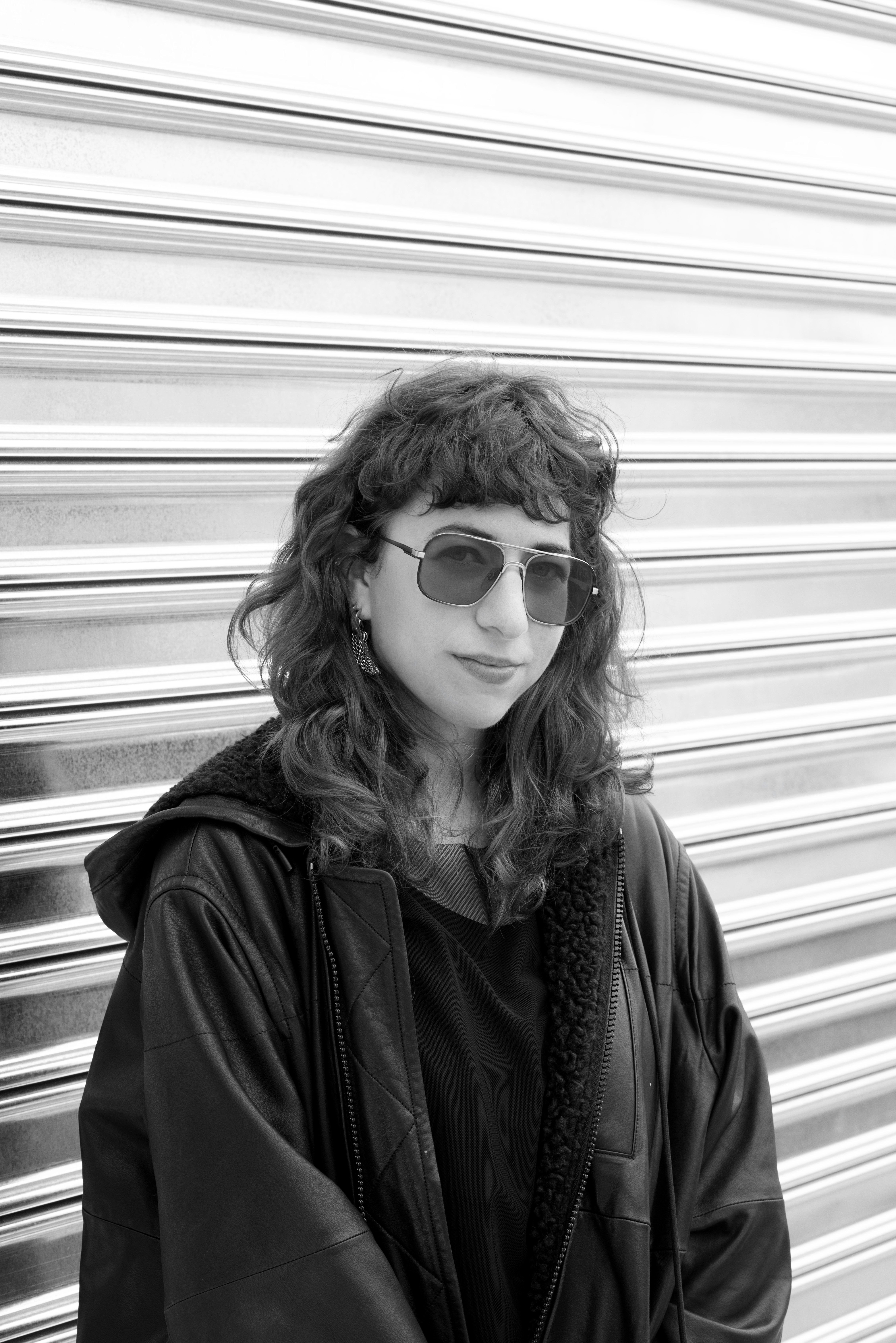 Post by Nina Berman
Best Zoom Alternatives for Meetings
It's no surprise that people who have been working remotely this past year (or for longer) are sick of Zoom. I've been a remote worker for years but it is only this past year that the video face boxes fill me with a deep sense of exhaustion and boredom. For years, Zoom was what I used for work, but now it has to also be what I use to talk to my family and mentor, and to watch movies with my friends.
While we're starting to see an end in sight of a Zoom-centric world, we will still be using video conferencing for a long time to come. Many workplaces will stay fully remote or will end up as a hybrid of virtual and in-person. Now that we know how many jobs can be done remotely, we hope that video conferencing can be used to support people who don't want to come back to an office for mental or physical health reasons. Fractured Atlas made the choice pre-pandemic to go fully remote so video conferencing is part of our future regardless of offices opening back up.
So, even though we're sick of Zoom, we still need video conferencing and remote collaboration tools. If you, like us, are looking to spice things up as you video call your coworkers, check out some of the tools and apps we've been using.
Around is the current favorite of the External Relations team. Instead of consuming your screen with video squares, Around uses little floating circles that just show your head. The circles are in soothing and flattering color palettes, which turns out to be a really lovely feature. You can adjust them, as well. You might want a pink-hued look or more of a 90s hacker green and black look.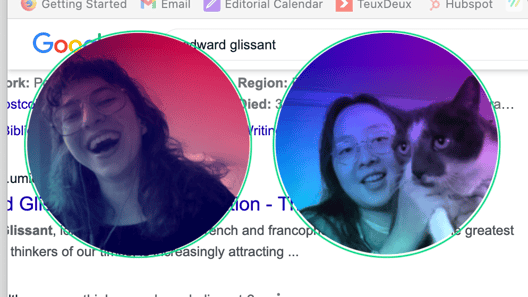 The External Relations team in Around, including our cat mascot Opus
The smaller circle cuts out most of your background, which can be an equalizer for people that are working in their spacious home office and people who are sharing their dining room table with their kids who are doing remote school and roommates who are also working remotely. Around's video does an auto-zoom when you are speaking, which can be a bit disconcerting at first.
You can create a shared document within the app instead of sharing your Zoom screen and opening Google Docs or some other shared document app.
A bonus is that Around's AI auto-mute functionality helps cut down on surprise car honking, engine revving or construction noises that can be distracting when you and your coworkers are trying to work.
Around is ideal for small group video conferencing and group document work.
We've used Ohyay to have check-ins and chats when we don't need to be sharing our screens or working on documents together. Ohyay lets you create cute meeting rooms that participants can pop in and out of.
Some of the preset rooms are designed to look like a sitting room with a fireplace, a Malibu back patio, or a bunch of antique picture frames. You can also customize your rooms. External Relations has had meetings in a room designed to look like one of our most beloved clubs, Nowadays, complete with music piping in to set the mood.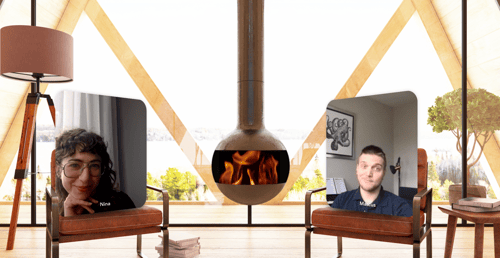 Cross-team collaboration with Nina and Marcus
You can create a watch party within Ohyay for a shared viewing experience.
Ohyay is nice for bigger groups because there are different rooms that people can jump between and explore. It could be useful if your team is having a meeting with breakout rooms or if you are having a more casual social meeting.
It might also be a nice option for non-work video chatting needs.
Mozilla Hubs lets you create or enter a browser-based VR room. This means that your meeting will look like it's happening in a video game. You can move your avatar around a Hub using your keyboard arrows.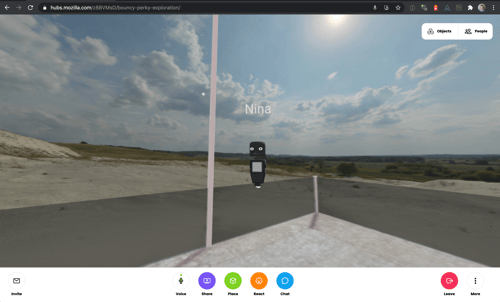 Mozilla Hubs is different from other apps we've used because it is a virtual space that you can move around in. It's ripe for exploring either on your own or with the other people in the space. You can bring objects into the space to customize it.
For meetings, you can share photos, videos, PDFs, links, and 3D models within Mozilla Hubs. You can also share your screen with other participants.
Mozilla Hubs does demand a learning curve, so expect to be figuring out how to move and navigate in the space together. Which doesn't have to be a bad thing! Working out a new app and a new virtual space could be good team building and shared exploration. If you want something that feels totally different from other meeting tools, Mozilla Hubs certainly gives a change of pace.
Unlike some of the other apps that we're covering here, Jitsi is more similar to Zoom in terms of functionality. It has comparable video conferencing tools and capabilities to Zoom and no major bells and whistles.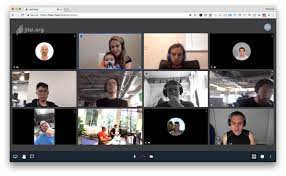 The biggest difference is really about how Jitsi is operated. Zoom is a venture-capital funded unicorn company (valued at over $1 billion) with a shady history of data collection that didn't pay any federal income taxes this past year. Jitsi, on the other hand, is a collection of open source projects with much more serious privacy and security practices.
Jitsi is a strong choice if you are working on sensitive issues and need to take security concerns seriously, if you simply want to wean yourself away from Big Tech, or if you want to support collective, open-source projects.
We've recommended Remo (and Mozilla Hubs) for virtual performances, but it's also great for meetings.
Remo has the functionality of video meetings and chatting like Zoom, but also has a breakout function to let people chat in smaller groups. Visually, it looks like little cafeteria tables with customizable names. You can also see who is sitting at which table. So, if you are hosting a panel presentation with a talk-back after, people who want to connect with one particular panelist can see which table they are sitting at and go find them. It can also help you group together conversations by interests, teams, or goals.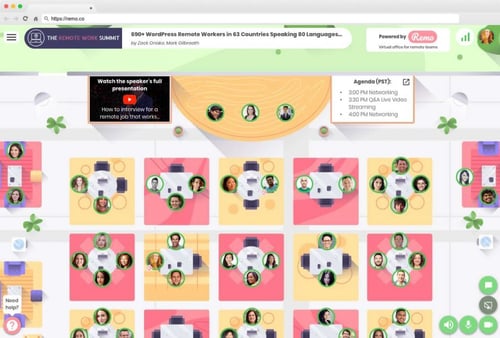 I've primarily attended events in Remo, although they were ones that combined uni-directional presentation with a more informal networking and chatting component. Of course it was a bit weird at first to pop in to a table and just say hi and meet a bunch of strangers, but it's odd to do that at in-person networking events, too! It is way easier to start conversations in smaller groups and when you are able to see who is where.
The Phone
There was a time, not so very long ago, that when meetings couldn't happen in person, they happened over the phone. Conference calls, I barely knew ye.
Of course, we don't want to replicate the worst parts of phone meetings where too many people are involved, nobody is paying attention, and nothing gets done. And jobs should pay for phone bills if employees are going to be taking considerable calls on their cell phones.
But we want to remind you that if you are working through a problem or an idea or just catching up for your daily standup, you don't need to be on your computer if you don't want to be. You could chat on your phone, perhaps heaven while walking outside! Your eyes will get a break from the screen, the fresh air might help clear your mind, and the change of pace is probably very welcome.
No Meeting
There's always another option. You could just not meet! Sometimes when we're working to find the right app to solve our problems, it prevents us from looking deeper into what's causing the issue at hand.
There are a number of issues with video conferencing that apps can solve. Trying a new app could make it easier to collaborate, provide some differentiation in your day, or give your eyes a break from the same Zoom grid. But if the real problem is that your job isn't purposeful about why you're having the meetings you're having, what you're hoping to accomplish, who is attending, and who is responsible for the follow-up steps, the problem isn't Zoom, it's meetings.
More posts by Nina Berman
About Nina Berman
Nina Berman is an arts industry worker and ceramicist based in New York City, currently working as Associate Director, Communications and Content at Fractured Atlas. She holds an MA in English from Loyola University Chicago. At Fractured Atlas, she shares tips and strategies for navigating the art world, interviews artists, and writes about creating a more equitable arts ecosystem. Before joining Fractured Atlas, she covered the book publishing industry for an audience of publishers at NetGalley. When she's not writing, she's making ceramics at Centerpoint Ceramics in Brooklyn.