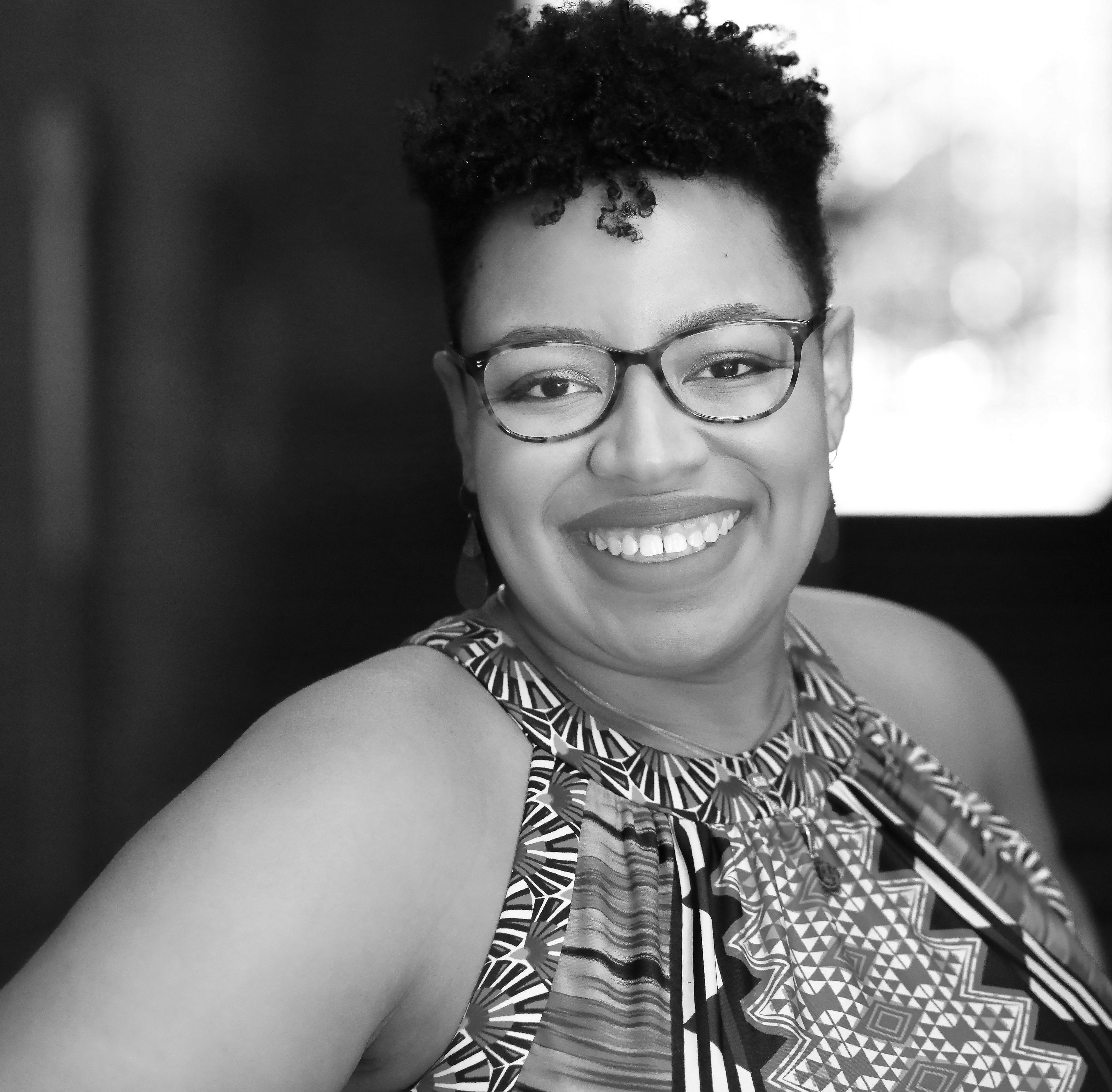 Post by Courtney Harge
A Welcoming Environment: Next Steps in our Anti-Racism and Anti-Oppression Work
Big Ideas | Advocacy | Anti-Racism/Anti-Oppression | People Operations
In October 2016, Fractured Atlas presented its commitment to anti-racism/anti-oppression. Specifically,
As part of Fractured Atlas's commitment to supporting individual artists and the arts sector overall in firmly planting themselves in justice, we are especially committed to ensuring that our environment, and those created by our member artists, are welcoming to all individuals, regardless of race and ethnicity, gender, sexual orientation, and disability, or any other bias that may present itself. Each day we are working, to paraphrase Mr. Baldwin, to dismiss the vocabulary we have hidden behind for so very long. [Emphasis added.]
In the time since that post, we have released our Anti-Racism and Anti-Oppression Community Guidelines, implemented race-based caucusing for staff, expanded our anti-oppression analysis to include issues of disability and accessibility, and shared resources to support others wishing to start this work. We are constantly questioning our policies and positions while iterating more inclusive tactics in service of our products and internal operations.
The work is never done and we remain committed to doing it.
In service of ensuring that our environment is welcoming to all individuals, here are two initiatives (one external; one internal) we have instituted at Fractured Atlas:
The Community Guidelines Complaint Form
Negative Customer Service Interaction Tactics


The Community Guidelines Complaint Form
When Fractured Atlas debuted its Anti-Racism and Anti-Oppression Community Guidelines, it was important to staff that these guidelines weren't hollow or toothless. We needed our guidelines to empower members of our community to hold us accountable to our values and each other. Moreover, we wanted the guidelines to be supported by a complaint/review process that is thoughtful, transparent, and effective. The Community Guidelines Complaint Form is designed to do just that.
This brief form is now open for everyone to identify members of our community that may be operating in ways that are counter to our guidelines. Fractured Atlas will receive, review, and respond to these complaints in service of cultivating more positive relationships with those in our community who may have been harmed by others. It is our mission to eliminate practical barriers to artistic expression: one of those barriers is not being able to call out (or call in) harmful practices, situations, or experiences. This complaint form allows anyone to call in those they've encountered who could operate more inclusively and responsibly. It allows Fractured Atlas to support those who have been harmed, educate those who wish to be better, and distance itself from those who continue to harm.
Once we receive a complaint, an in-staff committee reviews it and determines next steps. This process includes conversations with the complainant, community member-in-question, Fractured Atlas staff, and other relevant stakeholders. There will be ample opportunities for the community member to address the complaint in conversation with the review committee. We, also, stand firmly in our non-curatorial stance: we aren't prioritizing a type of art nor a point of view or subject matter. We are stating that in order to work with Fractured Atlas you need to be accountable to the community who interacts with your creative practice and the community-at-large.
Fractured Atlas is not positioning itself as the arbiter of oppression. We are, however, the arbiters of who we work with and how our services help (or harm) the community. The complaint form allows you to let us (and your fellow community members) know how we're doing and what we need to be seeing.
Negative Customer Service Interaction Tactics
While the Community Guidelines Complaint Form allows for external stakeholders to identify issues within our community, we needed a different solution for some internal issues regarding customer interactions.
What do we do if a customer is saying harmful things to a person providing service?
What do we do if a customer is engaging in abusive behavior?
What do we do if a customer is gaslighting a staff member by being harmful to them, denying any negative behavior, and being overly pleasant to a different staff member?
How do we take care of staff by acknowledging and minimizing the emotional labor involved in managing harmful interactions?
This is connected to our anti-racism and anti-oppression work because "professional behavior" can actually be a manifestation of white supremacy culture. For example, "the customer is always right" prioritizes the feelings of a person in power over the harm they commit. We also wanted to recognize that each person has their own threshold for responding to negative interactions: what one person can tolerate should not be the barometer for what all people can tolerate. Additionally, individuals have varying capacities at any given moment. We wanted to develop a solution that supported staff while also acknowledging their autonomy and ability to self-regulate.
Enter the Negative Customer Service Interaction Tactics document.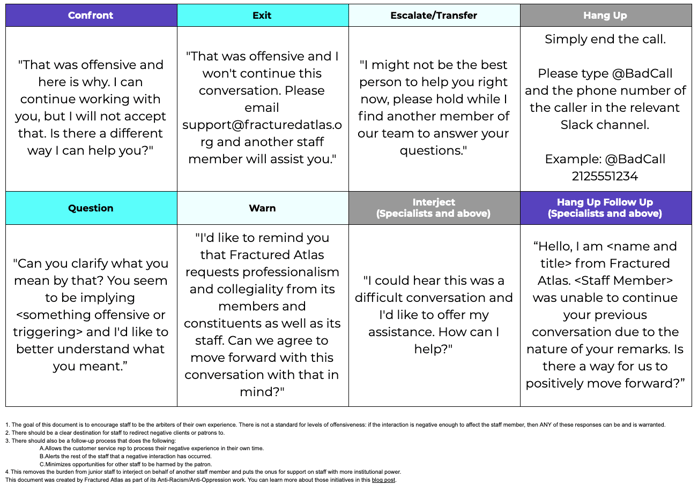 This document (which we are also offering as a free template for your use) serves as a guide for staff to reference while in a negative interaction. It offers prompts to support a variety of resolutions for the interaction while empowering the staff member to make the choice that is best suited to what they need at that moment.
Yes, this document allows for staff members to hang up on customers with the full support of the organization.
We found that staff were engaging in negative interactions for far longer than was reasonable or healthy. We also discovered that staff felt that they were required to stay in those interactions to provide "good customer service." Our staff needed explicit permission to extract themselves from these situations. They also needed to know that the organization would support them in standing up for themselves, their communities and their coworkers. And, frankly, customers having a standard of behavior to adhere to encourages everyone to be more respectful.
Fighting racism and oppression is a battle on multiple fronts. I am a firm believer that one should fight on whatever front they can, no matter how big or small. These two initiatives are small battles on small fronts that can have a huge impact on how we work with others and how comfortable people feel working with us. That feels like a giant step in the right direction.
If you have questions about either of these initiatives, feel free to reach out to us at support@fracturedatlas.org.
More posts by Courtney Harge
About Courtney Harge
Courtney Harge is a producer, director, and professional arts administrator originally from Saginaw, MI. She is the Founder and Artistic Director of Colloquy Collective, a theater company based out of Bedford-Stuyvesant, Brooklyn. She has worked for the Elaine Kaufman Cultural Center, Theater for the New City, The Public Theater, Gibney Dance, and, most recently, the New York Foundation for the Arts with a focus on institutional fundraising, crowdfunding, and fiscal sponsorship. She holds a Masters of Professional Studies, with Distinction, in Arts and Cultural Management from Pratt Institute and a Bachelors of Fine Arts with Honors from the University of Michigan in Theater Performance. Her credo (#HustlingKeepsYouSexy) is not merely a hashtag; it's a way of life.