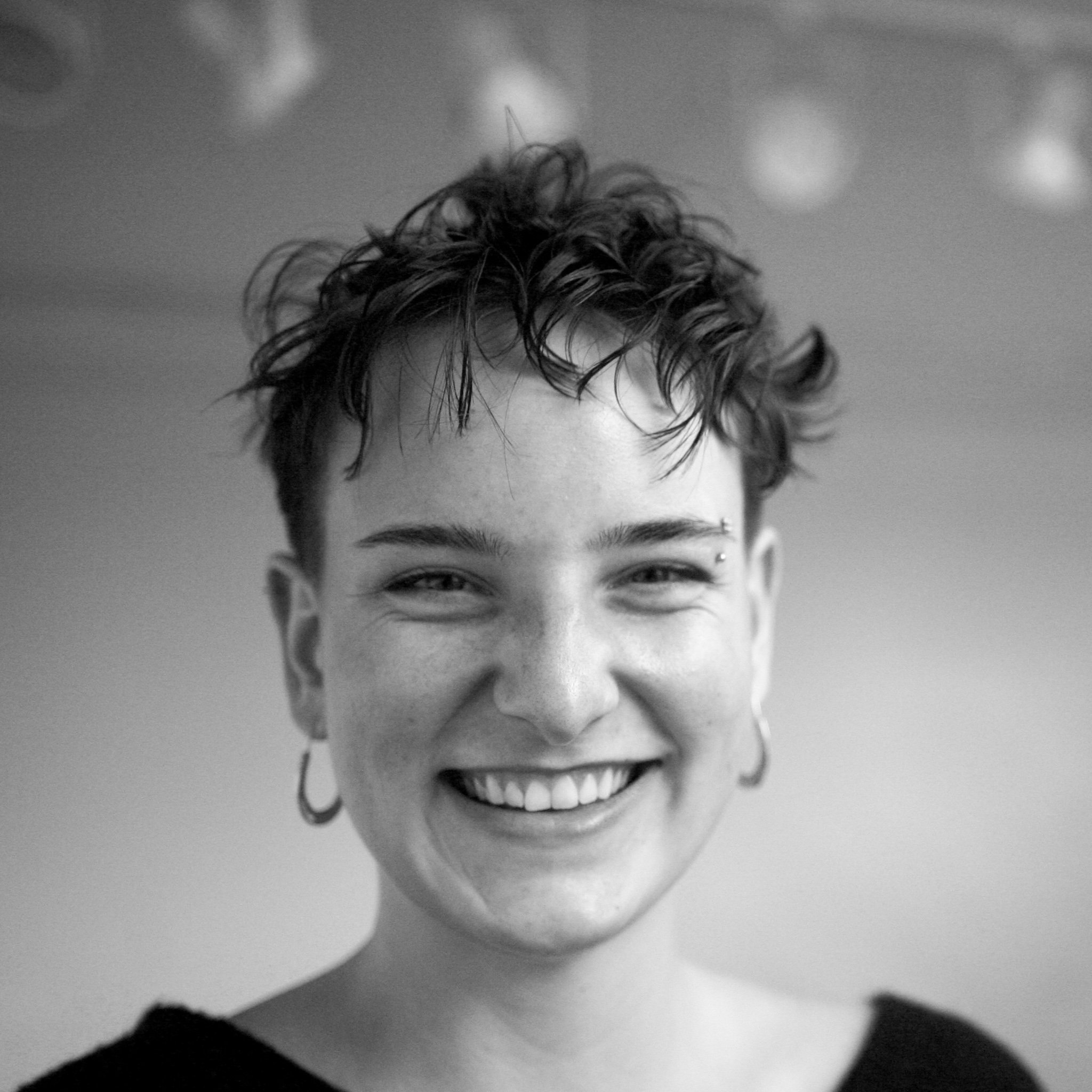 Post by Vicky Blume
You and Your Inner Financial Critic
Tips and Tools | Resistance | Scarcity | Self Care | Personal Finances | Economic Justice
My measuring stick for rising inflation is the cost of an iced oat milk vanilla matcha latte. It used to be $5, then $6, now a harrowing $7. Every time I reach the checkout screen, a familiar, condescending voice comes blaring through my head:
"Seven dollars? That's like $50 of retirement savings. Guess your grandkids don't need new sneakers, huh? You sure needed this matcha. Extra vanilla for $1, but you can't even spare a $1 donation at CVS. P a t h e t i c ."
This voice is what I like to call my inner financial critic. Colloquially, an inner critic is a recurring negative internal dialogue that many of us experience regarding our art, work, family, health, and more. The inner financial critic in particular will have you believe that you are financially irresponsible and the source of your own economic insecurity. This narrative can become a familiar and discouraging force in an artist's journey from inspiration to living practice, and reinforces the persistent smokescreen about what it takes to establish yourself financially as an artist.
We are here to assure you that experiencing economic insecurity as an artist isn't a personal failing. Making good art doesn't necessarily bring in grant funding, and workers in arts, nonprofit, and cultural sectors are still routinely underpaid, despite growing movements for economic justice.
One way of practicing a lens of abundance is to build a rapport with your inner financial critic. Conventional wisdom teaches us to either "conquer" or "silence" our inner critics. They're framed as internal bullies who need to be punished or banished so we can get back to making work as quickly as possible. What these combative approaches fail to do, however, is help you understand how your inner financial critic came to be and learn to befriend this part of you—instead of fighting a lifelong enemy.
Step 1: Build Awareness
The first step in reconciling with your inner financial critic is building awareness of when they are running the show and noticing how this affects your overall financial mindset. A strategy I've found helpful is to try and remember what I was doing right before the self-criticism started. Usually, something as small as reading an email subject line, like "Upcoming: Loan Payment," will have me making harsh overgeneralizations about my financial situation. This is a moment for me to pause, breathe, and move on to Step 2.
Step 2: Get Curious
It's tempting to ignore or fight your inner financial critic's negativity. While this is an understandable protective strategy, it doesn't get to the root of the problem. It might surprise you to hear that, like a schoolyard bully, your inner financial critic's nastiness comes from a place of insecurity and fear.
When I started approaching my inner financial critic with compassionate curiosity instead of defensiveness, I started making connections between my parents' experience as first-generation immigrants and my own financial beliefs. In their world, spending money on self-care was an inaccessible luxury, while asking for financial support was considered a moral failing rather than a powerful practice in building cooperative economies. The financial insecurity they experienced as immigrants trying to build a life within capitalist systems left me with financial beliefs that clash with my personal values and the realities of a changing world. Digging into your financial beliefs with compassion can deepen your understanding of economic systems and put your individual financial decisions into perspective.
If you're ready, try getting curious and engaging with your inner financial critic through a gentle line of questioning:
What are you scared will happen when we spend money?
How does money make you feel? Why?
Do you feel worthy of wealth and prosperity?
Step 3: Try New Tools
Once we establish an open dialogue with our inner financial critic, we have an opportunity to earn this part's trust and establish a peaceful, productive relationship over time. Here are some of your inner financial critic's panicky tactics, and some tools you can use to earn their trust and respect:


The Critic's Tactic: CATASTROPHIZING
Your Tool: FINANCIAL SELF-AWARENESS
According to your inner financial critic, every new charge on your credit card is a catastrophe. In reality, spending money on things like concert tickets and plants reflects values like supporting artists and connecting with nature. Making a non-judgemental list of your expenditures and connecting them to your values can help you determine how aligned your finances are with your values, and what areas you might want to grow into and out of. The more financially self-aware you are, the easier it becomes to respond with confidence and self-compassion when your inner financial critic tries to convince you that you're bad with money.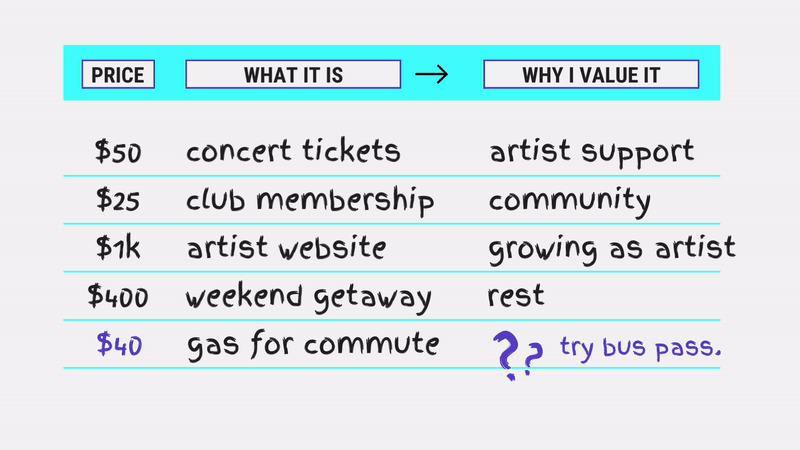 The Critic's Tactic: COMPARING
Your Tool: COMMUNITY
Comparing your financial situation to the perceived finances of other people is one of your critic's favorite tactics. It loves to compare you with that friend who seems to have a new gig every week or the sibling who just bought a new house with sparkling countertops. A helpful redirection of this urge towards comparison is to lean into the mutual aid movement. Engaging with mutual aid networks is a healthy reminder of how unique our financial needs and circumstances are, and how inhumane it is to view economic insecurity as a personal failing. From emergency rent assistance to medical leave expenses to business startup costs, each mutual aid post is wholly unique and reflects a universal truth: we are worthy of rest and flourishing, and we need one another to thrive.

You get a lot of practical business advice from all of us here at Fractured Atlas, like how to create a budget and answers to every fundraising question you've ever had. But sometimes the most effective strategy is building self-compassion and grounding yourself in your personal financial values. As always, we're here to help and we're rooting for you!

---

Additional reading
Internal Family Systems (IFS): Richard Schwartz' No Bad Parts
Mutual Aid in Nature: Pëtr Kropotkin's Mutual Aid: A Factor of Evolution
Mutual Aid Today: Jia Tolentino's What Mutual Aid Can Do During a Pandemic
More posts by Vicky Blume
About Vicky Blume
Vicky Blume is an arts worker based in New Haven, Connecticut. After moving to the city to study art and psychology at Yale, Blume lit up communications for a contemporary art gallery and a community art school. Most recently, she served as Creative-in-Residence at the New Haven Free Public Library's Tinker Lab. In her artistic practice, Blume builds interactive websites, animations, and installations that offer calming and consensual alternatives to the Attention Economy. At home, she is passionate about her houseplants but struggles to care for more sensitive plants. She aspires to create a home environment where every houseplant can thrive.