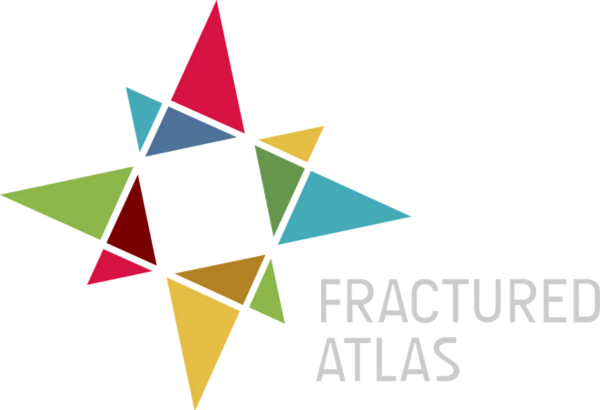 Post by Fractured Atlas
Thank You, Pallavi & Shawn! Fractured Atlas Enters a New Phase of Our Experiment in Shared Leadership
It is with a mixture of sadness and profound thanks that we say farewell to Shawn Anderson and Pallavi Sharma later this month. After nearly a year of planning and preparation, Shawn and Pallavi will be departing Fractured Atlas on August 31 to pursue new opportunities and new challenges. With their departure, the four-person shared, non-hierarchical leadership team will become a two-person leadership team. Lauren Ruffin and Tim Cynova will stay on in their co-CEO roles, continuing to guide the organization and engaging in the exploration of new structures of leadership and decision-making begun several years ago.
In late 2017, as part of a founder transition and our commitment to become an anti-racist, anti-oppressive organization, Fractured Atlas launched an experiment in structure, leadership, and shared power. Instead of a single CEO, we retooled the team to create a four-person, non-hierarchical leadership team. The co-CEO leadership team was composed of Shawn Anderson (Chief Technology Officer), Tim Cynova (Chief Operating Officer), Lauren Ruffin (Chief External Relations Officer), and Pallavi Sharma (Chief Program Officer).
For more than two years, our leadership team worked together to help Fractured Atlas grow, shift, and adjust to unforeseen global changes. And now, with Pallavi and Shawn leaving to pursue new opportunities, we're iterating again.
Shared, non-hierarchical leadership remains a core value at Fractured Atlas. We believe that our commitment to Anti-Racism and Anti-Oppression extends to how decisions are made and how our teams are structured because racism and oppression are structural issues. By sharing leadership, we can foster the diversity of perspectives, skills, and experience necessary for the organization to be healthy and effective.
On her tenure at Fractured Atlas and as part of the co-CEO leadership team, Pallavi said, "Working with the passionate, dedicated folks at Fractured Atlas and especially being part of the experiment in shared leadership, will always be one of the highlights of my career. I am grateful to have been able to work with really smart partners to grow and foster a true culture of innovation, a focus on mission, and genuine commitment to our values. Leaving Fractured Atlas is bittersweet, but, as someone who lives by a growth mindset and embraces change in all its forms, I am also excited for what lies ahead."
"I moved back to India a few months ago as part of a planned life change. That move has really opened up the best of both worlds for me. With more organizations working globally, and now virtually, I am able continue my consulting work with nonprofit clients in the U.S., while also exploring new opportunities supporting causes that are close to my heart, here, in the Indian subcontinent."
Shawn reflected, "Being part of the leadership team at Fractured Atlas has been an amazing experience. I have learned so much from my fellow co-CEOs, and will miss working with such a talented team. I am grateful to have been given the opportunity to experience de-centralized leadership in the context of pursuing the goal of becoming an anti-racist organization. Recently, I launched a consultancy that codifies the ad hoc consulting work I've been doing for the last 20 years. That work is focused on helping organizations and individuals thrive in a remote work environment with a particular focus on the necessary technology infrastructure and tools, and leverages my previous work advising NGOs and governmental entities."
For Lauren and Tim, much of their work supporting the rest of the organization and our vibrant membership will remain the same. They, alongside the entire staff and Board, continue to be focused on how during this moment of immense social change, Fractured Atlas can more deeply support the arts sector's urgent need for anti-racism and equity practices. Some of their time will be spent translating our "After the Diversity Training is Over" learnings into a methodology that we can share with organizations as an expansion of Work. Shouldn't. Suck.'s offerings.
When asked about the experiment in shared leadership and Pallavi and Shawn specifically, Fractured Atlas Board Chair Russell Willis Taylor remarked, "Pallavi and Shawn have been such creative leaders for Fractured Atlas during an eventful and critical time. Over the years they have jointly and individually contributed far more than we could have imagined, and both of these extraordinary people have consistently demonstrated vision and generosity -- a rare combination. We are grateful for the foundations they have helped to build, we will miss them to an immensely annoying degree, and we wish them nothing but great things in the years to come."
We know that anyone whose career intersects with Fractured Atlas won't be here forever. For us, we seek to use our time together to build things that fit the time and needs of those we serve. Whether that be building structures of power that are flexible, equitable, and open to support our internal operations, or new programs and activities to serve our members. We are now entering another phase of our experiments with how to hold power and how to build structures during an immense time of global change. And then how to continually iterate upon that work as the organization strives to meet the changing needs.
Tim and Lauren are looking forward to this new structure and flexible future. "We're going to miss learning, strategizing, and laughing until our sides hurt with Pallavi and Shawn every week, but we know this is more of 'so long' than 'goodbye.' They've been great friends and colleagues over the years. We'll do our best to hold things down in their absence, and while we don't know exactly what the future holds for Fractured Atlas's leadership structure, we're sure that it will be thoughtful, collaborative, and people-centered."
Everything Fractured Atlas does is an experiment to build a better workplace and to better serve our community of artists and arts organizations. We try new ways of working together and new ways of making decisions. They work for a time, and then when the world changes or members of the team move on to new opportunities, we iterate again and find new ways to work together. Read more about our journey and previous thoughts and experiments in shared leadership.
More posts by Fractured Atlas
About Fractured Atlas
Fractured Atlas is a nonprofit organization that helps over 1.2 million artists of all stripes with the business aspects of their work.