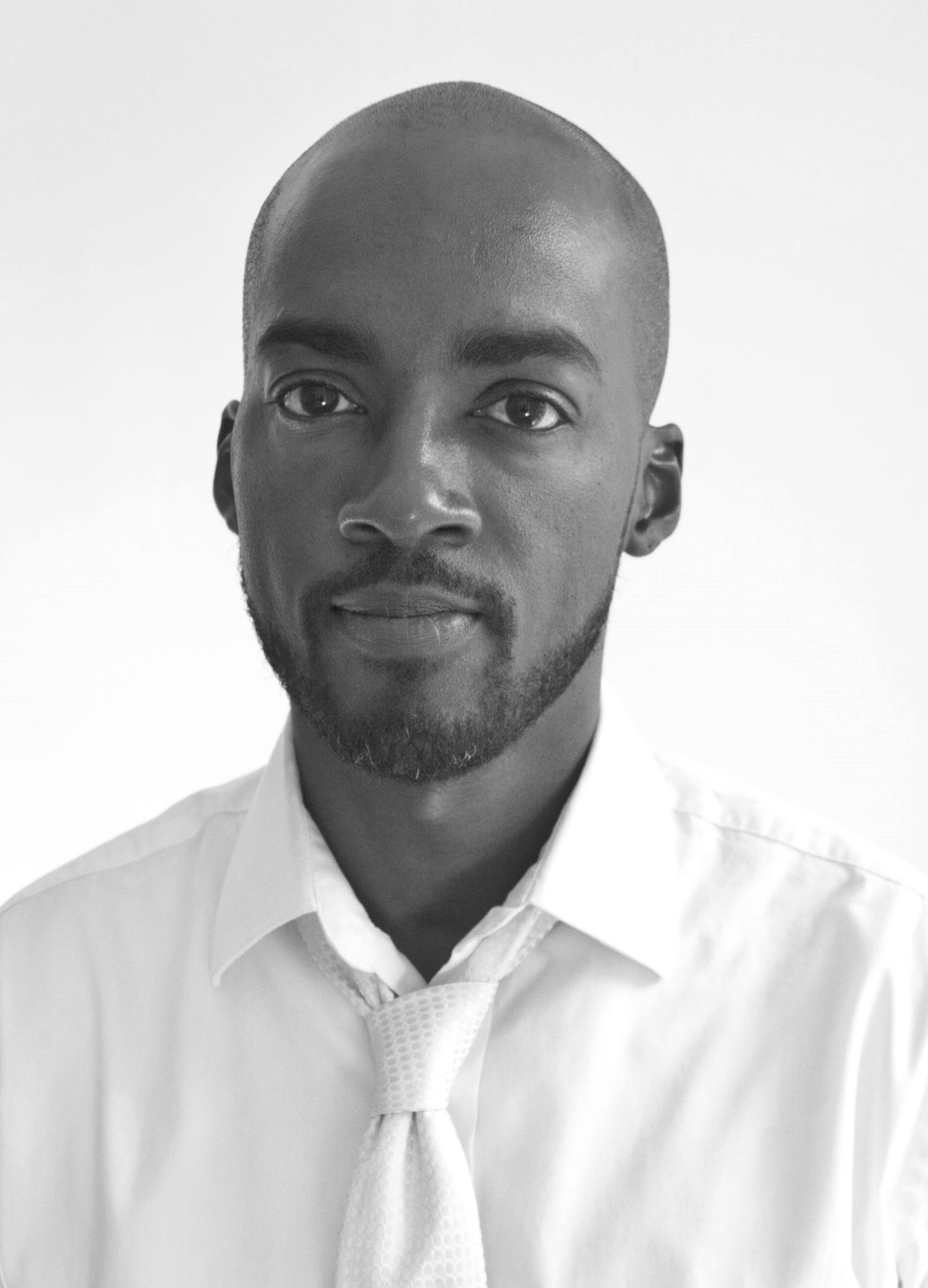 Post by Molaundo Jones
Member Spotlight: Donna Dodson & Andy Moerlein
Tips and Tools | Installation | Arts | Florida | Sculpture | Artists and Members
by Molaundo Jones, Social Media Specialist at Fractured Atlas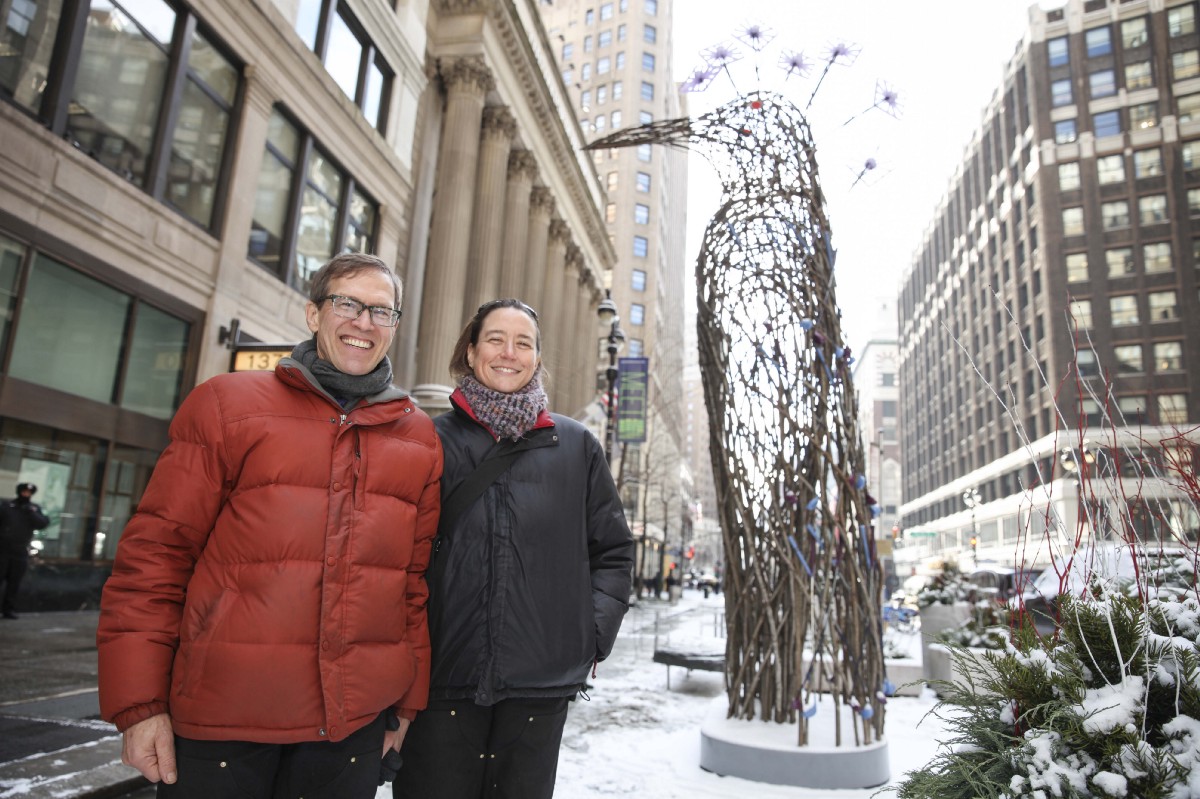 Donna Dodson & Andy Moerlein, "The Myth Makers," have completed over 20 monumental public art projects worldwide and have been members of Fractured Atlas for ten years. Both artists have presented public work throughout the world at art museums, sculpture parks, and urban centers.
Their project "Persistence and Perseverance" is a pair of monumental bamboo sculptures commissioned by the Coral Springs Museum of Art. Their temporary structures built from natural materials have been prominently exhibited in international locations including Taiwan, Switzerland, New York City, and New Orleans. This is their first public art installation in Florida.
How has Fractured Atlas benefited your artistic practice?
Fractured Atlas is the go-to underwriter for liability insurance because they understand artists, their rates are affordable and, as an artist, it is impossible to complete professional public art projects without insurance. Fractured Atlas coverage allows us to move to the next level swiftly when negotiating contracts.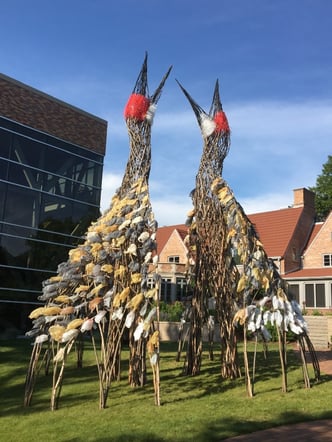 How has Fractured Atlas benefitted your revenue/income generation?
Being able to work on professional public art projects has allowed us to grow as a collaborative team and pursue larger, more ambitious projects with substantial budgets. It is impossible to get beyond a regional career without the ability to make winning proposals for national and international calls to artists. By working larger, with more financial support, we have created a lucrative public art partnership that is self-sustaining.
Why do you think artists and organizations should become members of Fractured Atlas?
If you want to have a professional practice as an artist, you need to know about many technical issues. Fractured Atlas is a great guide with years of experience and a proven track record supporting artists' studio practices and the business side of making a living as an artist. Fractured Atlas takes artists seriously and provides valuable products and services. Museums and arts organizations recognize the name and respect the value provided.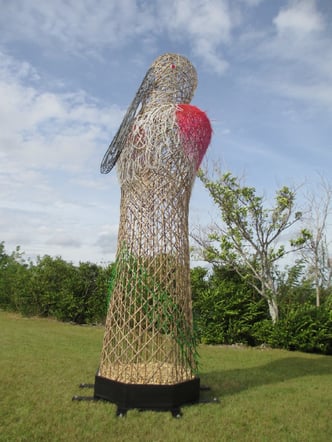 Do you have any upcoming events that people should know about?
We will be working as Artists-in-Residence at the Heritage Gardens in Sandwich, Massachusetts, May 3–5th 2019, installing one of our recent sculptures "The Beacon," a monumental avian avatar inspired by the Osprey as a tribute to Rachel Carson's ecological restoration efforts on Cape Cod at the Woods Hole Oceanographic Institution.
What is your biggest accomplishment as a result of being a Fractured Atlas member?
Our biggest project to date has been the "Avian Avatars," a major public art commission for the Garment District Alliance in NYC. We installed five monumental works of art on Broadway between Times Square and Macy's and since then we have had a steady stream of public art projects, commissions and installations from people who saw the work.
You can follow and learn more about Donna Dodson and Andy Moerlein at http://themythmakers.blogspot.com/ and https://coralspringsmuseum.org/; on Facebook at @donnadodsonartist and @andandy.moerlein; on Instagram at @donnadodsonartist and @andymoerlein; and on Twitter at @artistdonnad and @andymoerlein. You can see video of their work on Youtube as well: "Watch 26-foot Great Horned Owl sculpture's arrival to downtown Muskegon's Visitors Bureau"; "Giant Bird sculptures land on Poydras Street in New Orleans"; and "Bird sculpture Perseverance at Coral Springs."
Fractured Atlas on Social: Instagram | Tumblr | Twitter | Facebook
More posts by Molaundo Jones
About Molaundo Jones
Molaundo Jones is a visual artist, entrepreneur, and arts adminstrator. As Social Media Specialist, he creates strategies and content for social media marketing and works with our members to develop a comprehensive calendar of events. Molaundo is a New York native, earned his MFA in Fine Arts at the School of Visual Arts, and BA in Marketing at Morehouse College. He is founder of The Clever Agency, a communications consultancy and develops professional development programs for Queens Council on the Arts. He has also worked with the New York Foundation on the Arts' Immigrant Artist Mentoring Program and Artist as Entrepreneur Bootcamp and has served as a grant panelist for Bryant Park Corporation, Brooklyn Arts Council, and the Museum of Art and Design.