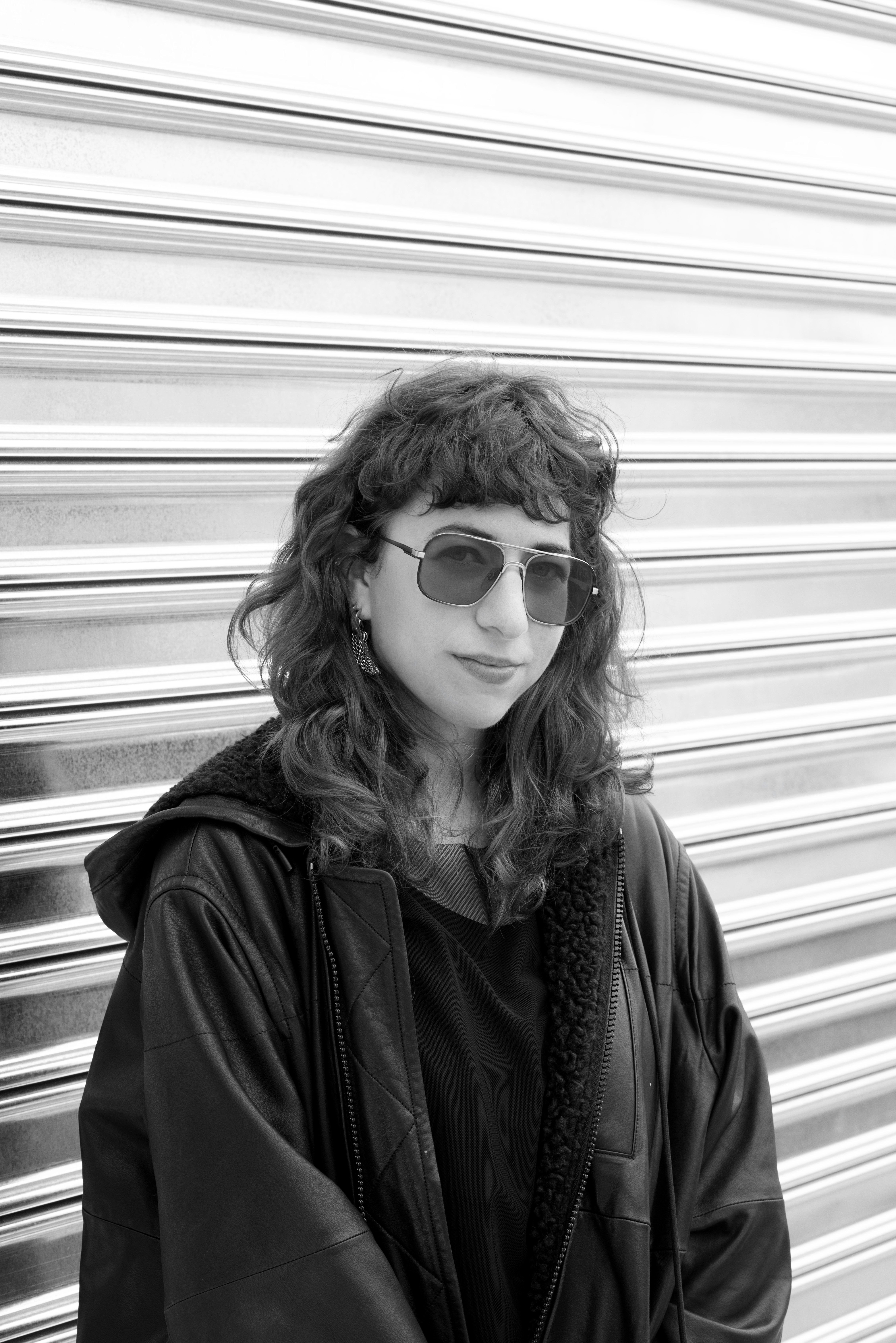 Post by Nina Berman
Member Spotlight: Cruising Podcast
Rachel Karp, Sarah Gabrielli, and Jen McGinty all found lesbian bars to be important spaces to them as they came into their own as queer adults. As Rachel puts it, it was "safe and validating and thrilling all at the same time."
And as they've gotten older, they've all become more curious about these bars (especially as their numbers have dwindled over the years). Who are the people who own and work at these bars? Who are the regular patrons? What does it mean to be a lesbian bar with an understanding that gender isn't a binary and sexuality is more complicated a gay/straight binary? What are lesbian bars like outside of major cities?
To answer these questions and to preserve the histories of these bars, Rachel, Sarah, and Jen hit the road with a recorder in hand. They are sharing the stories of lesbian bars on "Cruising Podcast" with new episodes every week. So far, they've dropped episodes about New York City's Henrietta Hudson and Cubbyhole as well as Washington D.C.'s A League of Her Own.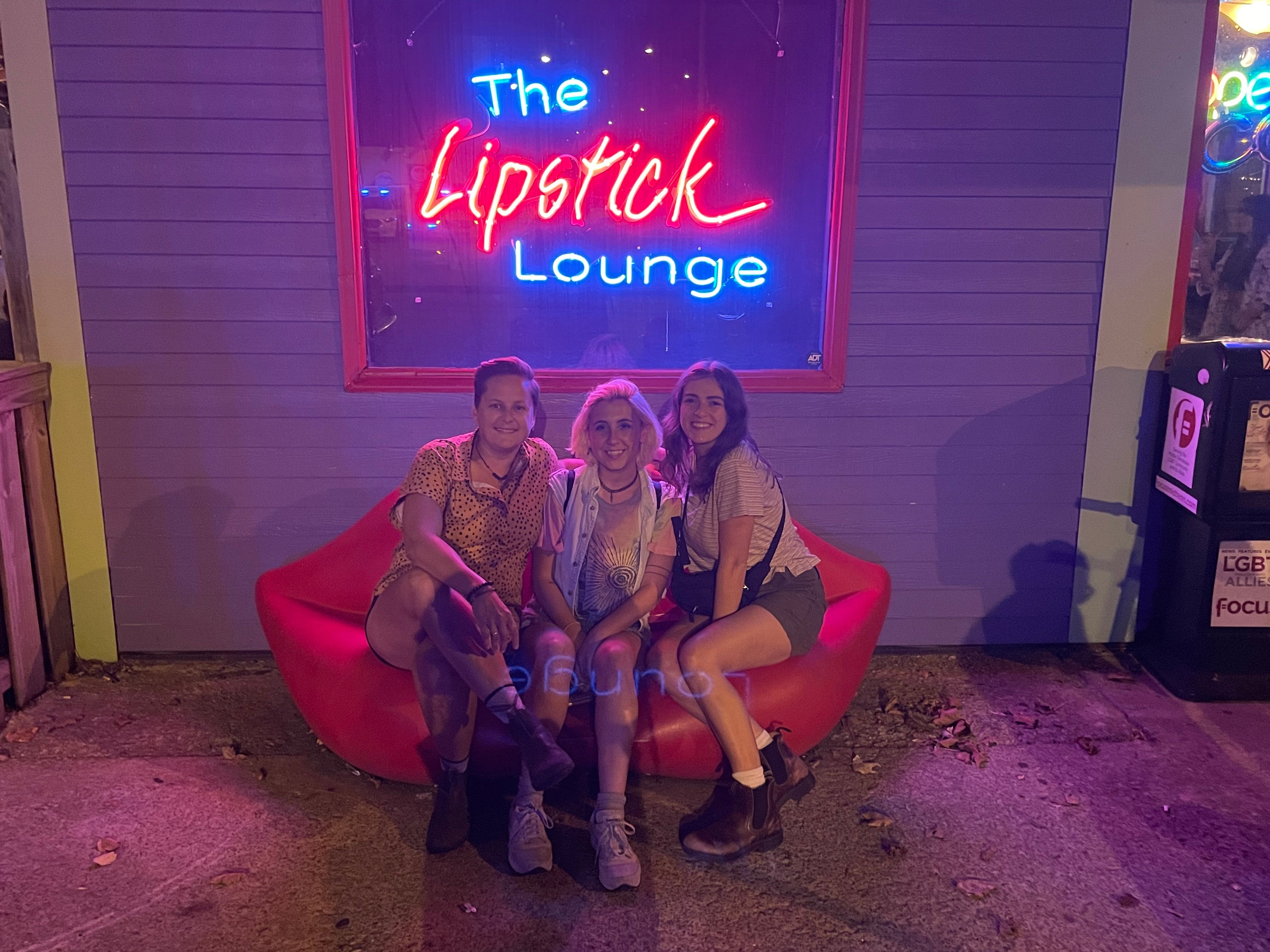 From left: Jen, Sarah, Rachel outside of Lipstick Lounge in Nashville, TN
Fractured Atlas is proud to have worked with at least one other project dedicated to the preservation of lesbian bars in this country, Lesbian Bar Project!
Rachel shares what lesbian bars have meant for her and her collaborators, how Fractured Atlas has supported their work, and what the challenges have been for her and her team as they've road tripped across the country.
Tell us about your work or project. What inspired it and how do you hope it will impact people?
In the 1980s, there were over 200 open and operating lesbian bars in the US. Today, there are less than 25. "Cruising" is a podcast about these last lesbian bars. Starting in our home city of NY, my collaborators (who happen to be my best friend and my girlfriend) and I have road-tripped around the entire country to visit each of these spaces and interview staff, owners, and community members.
What inspired this crazy undertaking? Well the three of us know what lesbian bars mean to us. Sarah and I grew up together in a small town in Massachusetts and when we moved to NYC one of the first things we did was go to Cubbyhole.
That experience of being a young queer person and walking into a queer space for the first time, predominately filled with other women and trans folks and non-binary folks is magical. It is safe and validating and thrilling all at the same time. And we wanted to know what these spaces looked like across the country--not just in hyper-liberal states like New York and California, but in Oklahoma and Texas and Alabama too.
And we wanted to know the histories of these bars and the stories of the people that run them and frequent them. And we wanted to know what a "lesbian" bar even is in 2021, when we no longer see gender as a binary.
And so "Cruising Podcast" was born. We hope that "Cruising Podcast" will impact people the way making it has impacted us. In interviewing folks in "lesbian" bars across the nation we have laughed, cried, and cursed. We have learned what queer community looks like outside of our liberal bubble. We have learned what our queer elders went through to get us to where we are today. We hope that "Cruising Podcast" does all this for our listeners, and then some. We hope it promotes acceptance and allyship. We hope that everyone can see themselves represented in these stories.
Describe the process you've taken to bring your project to life. What's been involved?
The process of bringing this project to life has been unlike anything we have ever done before. The three of us have spent 30 days driving almost 10,000 miles around the entire country to visit each of the 21 remaining lesbian bars. In each of these bars we interview owners, managers, staff, and patrons. From there, we take the hours of interview from each bar and pull selects, condensing each interview to its core. Then, Sarah and I write a script for the episode, weaving together the interview selects with narration. Sarah, who is our podcast's host, records the narration, cuts everything together, and we have an episode!
What have been your biggest challenges with this project or with your work?
The pace and intensity of the last month of this project has been our biggest challenge. We've had to balance the logistics of a massive cross-country road-trip with the creative needs of the project and the constraints of our budget.
And...living, traveling, and working for 30 days with your girlfriend and your best friend has its ups and downs! The three of us don't always agree and this trip has been a huge lesson in respectful, open communication.
For you, what is the relationship between art and social change? How does your work fit into that relationship?
We believe art and social change are inextricably linked, and that all art-making comes with social responsibility. We hope that "Cruising Podcast" will do more than simply entertain. We think this podcast has the potential to connect LGBTQ+ communities and allies across the country, and even the world. It will be free and accessible to anyone with internet connection, on all podcast streaming platforms and with transcripts available on our website. We believe in the power of digital media to foster community, and we hope that "Cruising Podcast" will give folks who are unable to access queer community in person a virtual alternative.
We also believe that journalism paired with story-telling is a powerful tool for sparking empathy. We hope the stories told on "Cruising Podcast" will promote understanding across difference, and combat homophobia, racism, and misogyny.
What has been most useful to you about your Fractured Atlas membership? Which tools, resources, or services have you taken advantage of?
Fractured Atlas's fundraising tools have been immensely helpful. We knew early on in this project that filing for our own 501c3 status wouldn't make sense for us. At the same time, we knew it would be important to some donors and sponsors that their donation be tax-deductible. We linked our Fractured Atlas fundraising page to our website, and Fractured Atlas made it really easy for folks to donate securely online. It was also incredibly useful to have Fractured Atlas generate and send all our donation receipts directly to donors.
What was your first big win with Fractured Atlas?
Our first big win with Fractured Atlas was meeting our initial fundraising goal! With the money we raised through Fractured Atlas, we were able to cover the baseline costs of producing this podcast. "Cruising" basically could not exist without Fractured Atlas.
What advice do you have for other artists or organizations using Fractured Atlas services? How can they get the most out of it?
Read the Fractured Atlas monthly newsletters! They contain some awesome grant opportunities and practical tips for artists. Don't wait until the last minute with grant applications. Start them early, and keep Fractured Atlas looped in every step of the way. If you are using Fractured Atlas to fundraise and you have a website for your project, stick a "Donate" button on your website that links to your Fractured Atlas fundraising page. You want to make it as easy as possible for people to figure out how to give you money!
---
To follow along on for the ride, check out "Cruising" on their website, as well as on Instagram and Facebook. You can listen to episodes on Apple Podcasts, Spotify, and elsewhere. To support their work, head over to their Fractured Atlas fundraising page!
More posts by Nina Berman
About Nina Berman
Nina Berman is an arts industry worker and ceramicist based in New York City, currently working as Associate Director, Communications and Content at Fractured Atlas. She holds an MA in English from Loyola University Chicago. At Fractured Atlas, she shares tips and strategies for navigating the art world, interviews artists, and writes about creating a more equitable arts ecosystem. Before joining Fractured Atlas, she covered the book publishing industry for an audience of publishers at NetGalley. When she's not writing, she's making ceramics at Centerpoint Ceramics in Brooklyn.