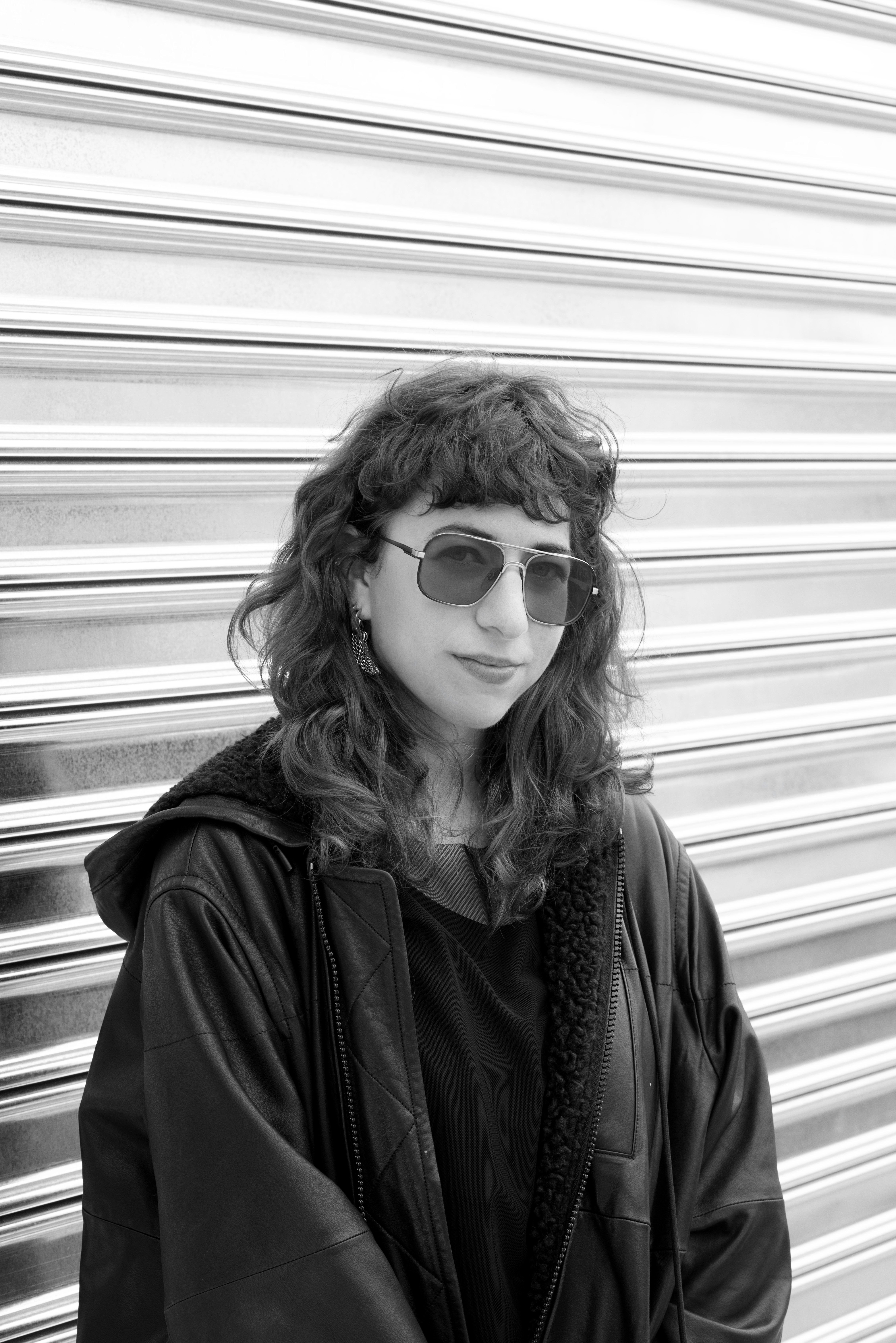 Post by Nina Berman
Member Spotlight: Behold the Man Opera
When news of Cecilia Giménez's restoration of the "Ecce Homo" fresco became international news, most people saw a meme and got a quick laugh. The restoration has been called the Beast Jesus or Monkey Jesus and is one of the most notable failed restorations of our time. It spawned internet fame for Giménez and countless jokes and riffs. It also ended up bringing new tourist attention to Borja, the Spanish town where Giménez and her restored fresco lived.
But librettist Andrew Flack felt that there was something deeper to the story. The story of the "Ecce Homo" restoration had all the makings of a great opera. It had ambition, failure, betrayal, and forgiveness.
Together with composer Paul Fowler, translator H. F. Pascual, and producer Barbara Duff, Flack created the comic opera "Behold the Man" to tell the story of Cecilia Giménez, Borja, and its most famous piece of art. "Behold the Man" will have its premier this fall at Wingate University.
Tell us about your work. What inspired it?
"Behold The Man — La Ópera de Cecilia" was inspired by the true story of the 2012 botched restoration of the "Ecce Homo" fresco in Borja, Spain. Set against the backdrop of the Great Recession, our crossover comic opera follows the travails of its faithful restorer, Cecilia Giménez, and her good deed gone wrong. Scorned by her neighbors and shamed online for perpetuating the "worst restoration in art history," Cecilia suffered as her mangled image of Christ morphed into countless memes, qualifying it as an "internet sensation." But soon her humiliation turned to wonder as waves of adoring fans arrived to help restore her reputation and save the fortunes of the struggling town. Her disaster had become a miracle.
What was your creative process like?
Upon first seeing a photo of Cecilia only days after the discovery of her failed, unfinished attempt, my heart went out to her. The anguish and confusion I saw in her face triggered something in me. I didn't know exactly what, but an artistic response was called for. Could those storm clouds hold a silver lining? Could I work to help make it so?
To do this I contacted my composer friend, Paul Fowler, who'd said he wanted to write an opera and was casting about for an idea. Two weeks later we had begun a process which would ultimately take seven years to complete; "Behold The Man — La Ópera de Cecilia," a two-act work of music theater with versions in both English and Spanish.
The opera was written in real-time as events unfolded half-a-world away. During those years my wife and I traveled from Denver to Spain on four occasions to visit Cecilia and get to know her family. We were embraced as cohorts, extended family, and these experiences richly added to the finished work. In August 2016, the town of Borja produced a staged reading of selected scenes attended by some 700 locals and tourists. A truly amazing experience.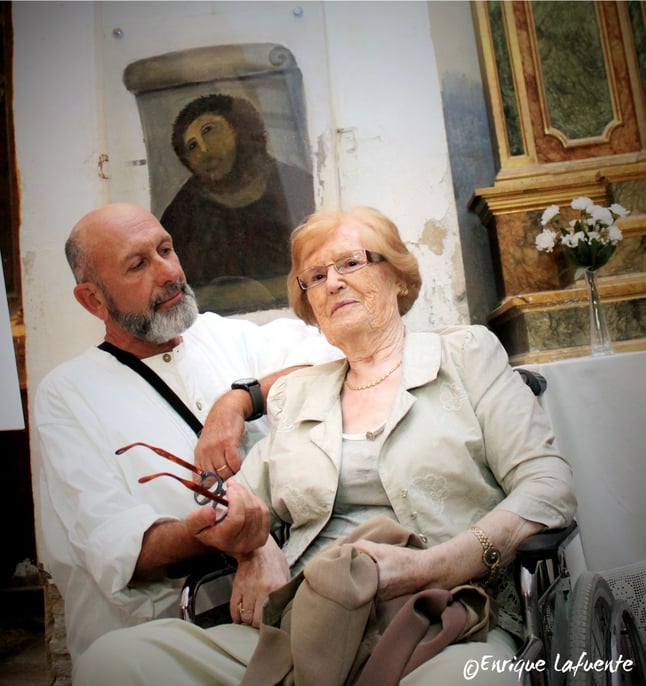 Andrew Flack and Cecilia Giménez
When most non-opera people think about opera, we mostly think about people performing classic operas like The Ring Cycle or Turandot. What does the landscape of new opera creation look like from your vantage point?
Opera lovers are passionate about the classics, but much of contemporary opera feels exclusive, often discordant, and challenging to the ear of new audiences. While these musical works are essential for helping make sense of our complex world, I also believe there's a place for accessible melodies, sung by beautiful voices, telling stories more welcoming to a wider audience. "Behold The Man" is of this type; a unicorn, a "crossover," a hybrid work of music theater featuring a wide range of influences from Aragonese folk music to flamenco, sacred music to romantic opera, Sinatra to K-pop.
Because Cecilia's story grew to prominence on the internet, the music, too, refers and reflects the universe of musical possibilities found online in 2012. Each character is given a signature style to deliver their unique point of view. Church music, Bel Canto, Baroque, Broadway, Zarzuela, Jota, Pop and many other forms are evident in the musical palette. Because of this, we believe BTM has the potential to reach the widest possible audience of experienced opera lovers and those brand new to the form, in both English and Spanish. We think of BTM as a "gateway" musical experience, opera for a new generation.
Why is the Beast Jesus restoration story a good fit for an opera? What impact would you like to see it have?
At the heart of our story is Cecilia's heart, and how her quiet faith saw her through a transformative ordeal. Other big "operatic" themes like betrayal, forgiveness, and redemption are also in play. And while Paul and I focus on those, we also mine the absurdity of the situation for its humor: that an 80+ year old amateur artist, living in a remote Spanish village, is suddenly (and quite rudely) thrust into social media's worldwide glare.
The lesson being that we all make mistakes, and sometimes our good deeds go terribly wrong, but with patience and a pure heart you'll find the courage and strength to soldier on, because even the darkest clouds can have a silver lining. (It should also be noted that Cecilia and her "Ecce Homo" have been relentlessly reported on in the media since 2012, and the story is known to millions of people around the world.)
What has been the process to get ready for the premiere?
In 2019 "Behold The Man" won a slot in Ft. Worth Opera's prestigious Frontiers New Works Showcase where we met pianist extraordinaire Annie Brooks, who introduced the work to her creative collaborator, Jessie Wright, director of Wingate University's opera program who quickly agreed to a full production. Originally scheduled for a Fall 2020 premiere, due to COVID, the date has been shifted to fall 2021. In the interim, Paul and I have participated in several Zoom meetings with students from Wingate's opera and music programs to discuss the work and its upcoming production.
Borja concert
What has been your biggest challenge?
Because BTM is a hybrid, a wholly new opera-centric work of music theater that's not easily pigeonholed, it will require a visionary producer/director willing to make a leap of faith. To date, in this time of COVID, finding that partner has been our greatest challenge. The work's first champion, Brian DeMaris, director of Opera + Music Theater at Arizona State University, who hosted us for a full orchestral reading in 2018, continues to be a most enthusiastic supporter.
How has Fractured Atlas supported the project?
Fractured Atlas is an art-based community of like-minded business professionals supplying the tools to support your success. Whether it's getting started fundraising, using their Knowledge Base resource library, or going all the way and working with them as fiscal sponsor, they provide a rock-solid platform which brings confidence and credibility to your project. We worked under their umbrella when raising funds on Indiegogo for "Behold The Man" and are still FA members five years later. With the money raised we were able to record 14 audio demos which allowed us to market the work to prospective donors. We also produced two staged readings which were most helpful in our development. Director of Programs, Nathan Zebedeo was always on call and so helpful answering questions. I'd have to say Fractured Atlas helped us think of our opera's "business" as a natural extension of our creative process.
What advice do you have for other artists or organizations using Fractured Atlas services. How can they get the most out of it?
Take full advantage of their services. The webinars, Knowledge Base resource library, and fundraising templates are all designed to help you thrive. FA will stand behind you on your creative journey, providing credibility and building confidence along the way.
---
You can follow "Behold the Man" on its website as well as on Instagram and Facebook. You can support the team's work by donating to their Fractured Atlas fundraising page.
More posts by Nina Berman
About Nina Berman
Nina Berman is an arts industry worker and ceramicist based in New York City, currently working as Associate Director, Communications and Content at Fractured Atlas. She holds an MA in English from Loyola University Chicago. At Fractured Atlas, she shares tips and strategies for navigating the art world, interviews artists, and writes about creating a more equitable arts ecosystem. Before joining Fractured Atlas, she covered the book publishing industry for an audience of publishers at NetGalley. When she's not writing, she's making ceramics at Centerpoint Ceramics in Brooklyn.