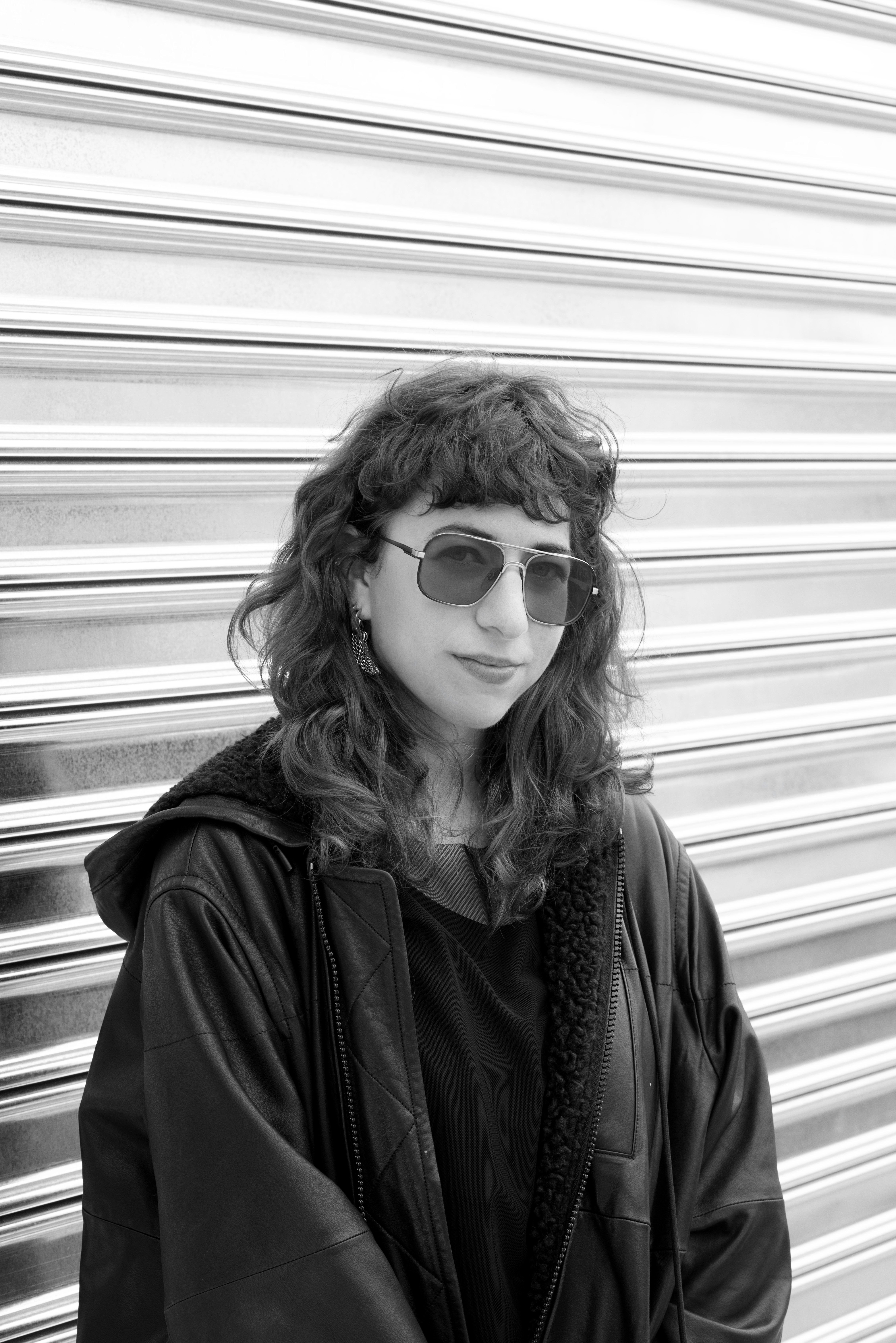 Post by Nina Berman
Best Crowdfunding Platforms for Artists
Creative projects require money. You need money to rent space, hire collaborators, purchase supplies, print programs, contract web designers, and more. As an artist, you can fund your work by applying for grants, many of which will require you to be a 501(c)(3) or find a fiscal sponsor like us. You can also raise money by crowdfunding.
Crowdfunding means accepting small financial donations from individuals rather than larger sums. Crowdfunding can refer to a specific, time-based and goal-driven campaign or to ongoing efforts to receive recurring donations.
If you decide to support your work by crowdfunding, (instead of or in addition to other ways of making money), an early question you'll need to answer is which platform will you use. Between general crowdfunding platforms like Indiegogo or artist-specific platforms like Seed&Spark and Fractured Atlas's own crowdfunding platform, you have choices.
Platforms differ in the ways they process money, let you organize your fundraiser, and in the features they offer. Some crowdfunding platforms are designed for time-based campaigns to raise a specific amount of money while others are designed for recurring donations.
Before you start crowdfunding, you'll need to find the platform that works for you.
We're proud of the platform that Fractured Atlas provides to artists to help you raise money from your community, but we know that we're not the only game in town. In the end, we want more artists to fundraise enough to bring their visions to life. Here are a few of the best crowdfunding platforms for artists to use.
Why Should Artists Crowdfund?
Crowdfunding is a great option for artists looking for financial support for your projects. Compared to applying for grants, crowdfunding can be less intimidating and more straightforward.
Unlike applying for grants, you don't need to convince a committee full of arts professionals who don't know you, and who are comparing your work to many other applicants' work. Instead, you need to make a case that your work deserves financial support to people you already know (and then hopefully the people that they know, if they share the campaign).
The world of grants can be confusing. It can be hard to find the right grants to apply to, competitive to receive grants, and challenging to figure out exactly what you need to do to increase your chances of getting a grant.
When you can successfully run a crowdfunding campaign, you have proof of concept for your work, plus an audience for when it's ready. A successful crowdfunding campaign shows that your work is resonant enough that people are willing to help finance it.
If you decide to ask for recurring funds through crowdfunding, you can start to build a reliable source of income to support your work, which can ease the pressure to fundraise for specific projects.
What Makes a Crowdfunding Platform Good for Artists?
We recommend that artists use a crowdfunding platform that you find easy to navigate and to use, that's visually intuitive or provides clear steps to set up a campaign.
You might also want to consider using a platform that's specifically designed for artists or creatives because they will likely offer specific tools or services relevant to fundraising for a creative project. Working with a site dedicated to creatives might also give you a better chance of reaching new people. Funders might browse crowdfunding platforms looking for new and interesting projects to support, and the platform itself might recommend new projects to backers. All of this could increase your visibility for new audiences.
If you don't consider yourself to be the most technologically inclined, or don't have a lot of spare time to learn how to be a one-person fundraising machine, look for a platform that offers customer support and educational resources in case you run into issues.
And now, here are some of the different platforms to consider:
Seed&Spark is designed specifically with filmmakers in mind. So if you're looking to fund a feature, short, documentary, or something else, Seed&Spark might be a good fit for your needs.
Once you hit 80% of your fundraising goal through Seed&Spark, you keep all of the money that you raise, minus a 5% platform fee. Supporters can opt to pay for the platform fee in addition to their donation. Seed&Spark reports that roughly two thirds do, meaning that most campaigns pay closer to a 2% platform fee. Its credit card processing fees are 2.9% + $0.30 for every transaction.
You can provide incentives for your campaign. Notably, Seed&Spark provides other resources to fundraising filmmakers, including distribution, and additional benefits like finishing funds for projects with over 500 backers, or other rewards. It also offers in-depth reporting and educational resources.
Unlike other crowdfunding platforms, Indiegogo will let you pick your funding model. You can choose if you want to keep all of the money you raise whether or not you meet your goal, or if you want an all-or-nothing model. However, once you've decided which direction you're heading, you won't be able to change.
Even though Indiegogo is popular with creatives, it isn't specifically designed for us. Indiegogo's focus is more in the global, tech, or entrepreneurial realms. This won't necessarily matter for an individual campaign, but it might mean that your work isn't as likely to end up in its Team Favorites collection for higher visibility.
Indiegogo also provides a platform for creators to keep funding their work after the campaign ends, InDemand. You can opt into InDemand after your Indiegogo campaign ends, or use it in conjunction with another crowdfunding campaign.
Using Indiegogo, you can provide perks for your funders and access Indiegogo's educational resources for running campaigns.
Indiegogo charges a 5% platform fee, plus 2.9%+$0.30 for every transaction. If you use a different crowdfunding platform and then switch to InDemand, your platform fee is 8%.
Like Indiegogo, Kickstarter is a massive and popular crowdfunding platform. Unlike Indiegogo, it is more focused on creatives rather than businesses, but it is still very broad in scope. It has individual sections for Arts, Comics & Illustration, Design & Tech, Film, Food & Craft, Games, Music, and Publishing.
Kickstarter uses an all-or-nothing funding model. If you don't meet your fundraising goal, you won't be able to access any of the money that you raised. Kickstarter has a 5% platform fee, plus payment processing fees that amount to roughly 3-5%.
Something that we like about Kickstarter is that because it is such a big platform, it also has a robust editorial/curatorial framework that increases discoverability. Funders can browse Fresh Favorites and Home Stretches. Potential funders can subscribe to various newsletters based on interest to see new projects that they might be interested in. Kickstarter's editorial armature might let you reach a broader audience than just your own network.
Patreon gives creators a platform to accumulate recurring donations for their work. So, instead of fundraising for a specific project, you can ask for ongoing support. If you produce consistent work, like a podcast, a regular performance series, or essays, Patreon might be a good option.
Patreon is designed specifically for creatives, and has resources specific to different kinds of creators, including visual artists, musicians, and video creators, as well as nonprofits.
With Patreon, you can create gated content, available only to supporters or supporters at a specific tier of membership. You can also create limited-time promotions.
Patreon offers different tiers of service to artists and creators who use their platform: Lite, Pro, and Premium. If you use the Lite version, you'll pay a 5% processing fee. For Pro, you pay an 8% fee, and for Premium, the fee is 12%. Processing fees for transactions over $3 are 2.9% + $0.30 and processing fees for transactions $3 or below are 5% + $0.10.
Withfriends is designed to help small businesses and organizations increase their revenue through monthly donations. Like Patreon, you can offer your supporters different membership tiers, with different perks associated.
Withfriends is also a ticketing platform, so one of the perks that you can easily offer to supporters is discounted tickets to your events. Using Withfriends, you'll pay a 10% platform fee, plus half the cost of your payment processing fees.
Withfriends isn't as big an operation as some of the other crowdfunding platforms. To date, they have fewer than 400 organizers using their platform. But this means that when it sends recommendations to funders for other organizations they might be interested in, you have better odds of surfacing.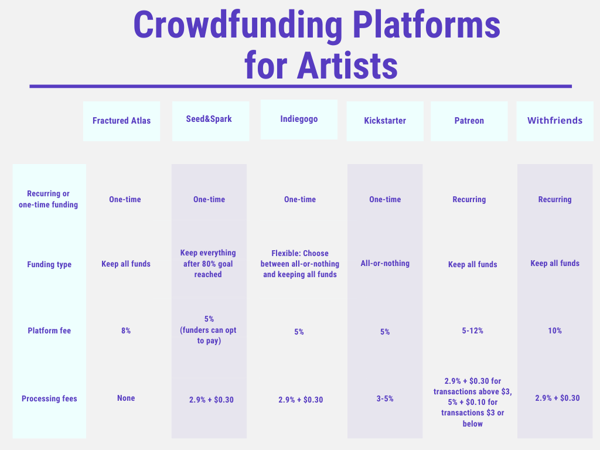 Choosing a Crowdfunding Platform
Only you can determine which crowdfunding platform is right for you. That'll depend on what kind of crowdfunding campaign you want to run, how you want to handle funding, and whether you want a platform designed specifically for artists.
If you decide that you want to work with a crowdfunding platform that is designed specifically and exclusively for artists, Fractured Atlas's crowdfunding platform might be the right fit.
Fiscally sponsored projects have access to Fundraising by Fractured Atlas, which is created specifically and exclusively for artists. Donations made on behalf of your project are tax-deductible, and available to you after seven days of processing, whether or not you reach your campaign goal. Because Fundraising by Fractured Atlas is only available to fiscally sponsored projects, you have the benefit of working with a staff that is well-versed in arts fundraising. The same people who are available to help you run the most successful campaign possible are the same people who are reviewing your grants, appeal letters, profile, and more. Donors can feel secure knowing that there is oversight over any campaign that they choose to support; that their money is being put to good use.
We believe that artists are resilient, and we have seen you produce great work with money raised through Fractured Atlas.
If you decide that Fractured Atlas is the best fit for your needs, we'd love to work with you! Get started with a crowdfunding campaign through Fractured Atlas or reach out to support@fracturedatlas.org with any questions.
More posts by Nina Berman
About Nina Berman
Nina Berman is an arts industry worker and ceramicist based in New York City, currently working as Associate Director, Communications and Content at Fractured Atlas. She holds an MA in English from Loyola University Chicago. At Fractured Atlas, she shares tips and strategies for navigating the art world, interviews artists, and writes about creating a more equitable arts ecosystem. Before joining Fractured Atlas, she covered the book publishing industry for an audience of publishers at NetGalley. When she's not writing, she's making ceramics at Centerpoint Ceramics in Brooklyn.