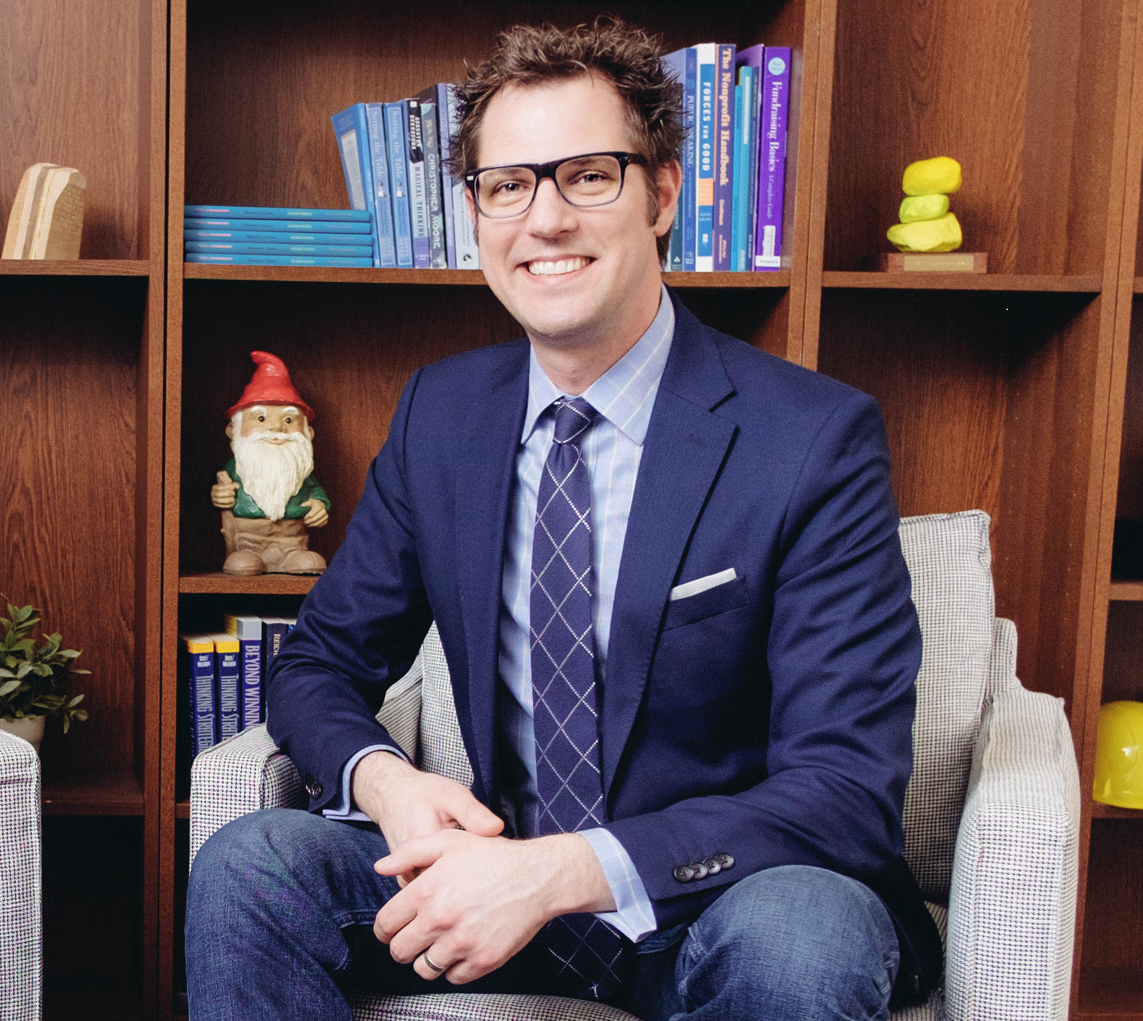 Post by Tim Cynova
Summer Reading Challenge 2019
Big Ideas | How We Work | Anti-Racism/Anti-Oppression | People Operations | Summer Reading

Around Memorial Day each year when my sister and I were kids, our parents would take us to the McCollough Branch of the Evansville Public Library. It was that annual rite of passage — the summer reading challenge! We'd select a hefty stack of books, and then hope to God come Labor Day we'd have read enough of them to earn that sweet certificate for a free scoop of Baskin Robbins ice cream.
In the spirit of those early '80s summer reading challenges, I've pulled together what's currently on my reading list for the summer. And, if I can complete just four of these books come Labor Day, you better believe I'm headed to Baskin Robbins, or Shake Shack, whichever is closest.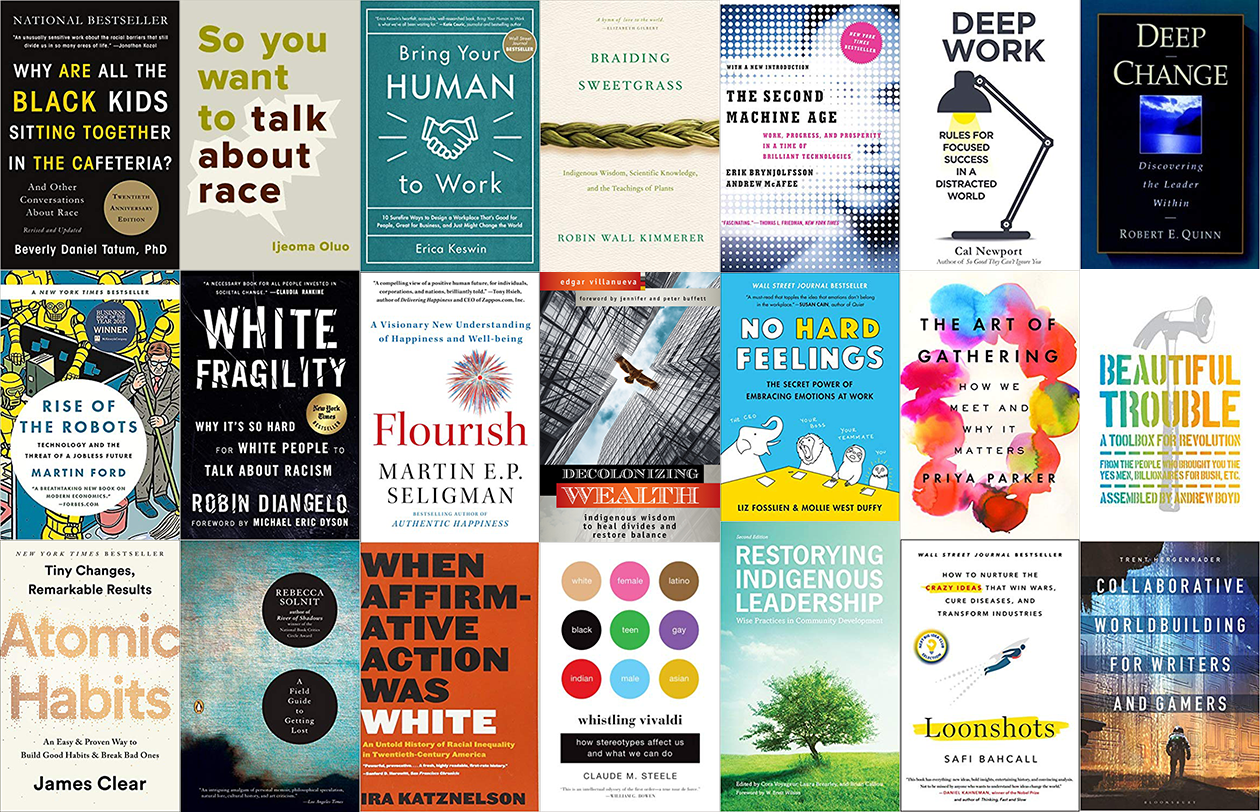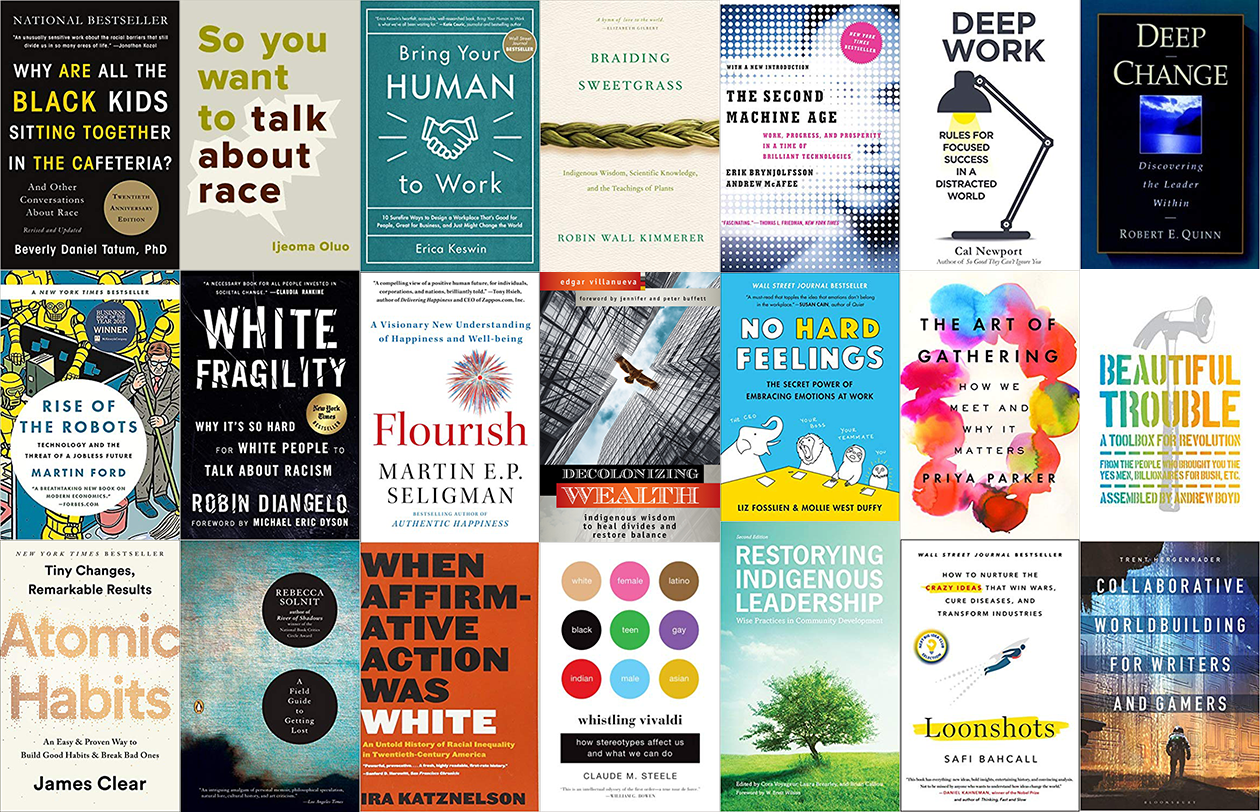 ---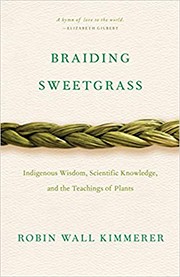 by Robin Wall Kimmerer
Drawing on her life as an indigenous scientist, and as a woman, Kimmerer shows how other living beings―asters and goldenrod, strawberries and squash, salamanders, algae, and sweetgrass―offer us gifts and lessons, even if we've forgotten how to hear their voices. In reflections that range from the creation of Turtle Island to the forces that threaten its flourishing today, she circles toward a central argument: that the awakening of ecological consciousness requires the acknowledgment and celebration of our reciprocal relationship with the rest of the living world. For only when we can hear the languages of other beings will we be capable of understanding the generosity of the earth, and learn to give our own gifts in return.
---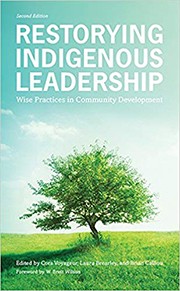 by Cora Voyageur, Laura Brearley, and Brian Calliou
Restorying Indigenous Leadership: Wise Practices in Community Development is a foundational resource of the most recent scholarship on Indigenous leadership. The authors in this anthology share their research through nonfictional narratives, innovative approaches to Indigenous community leadership, and inspiring accounts of success, presenting many models for Indigenous leader development. These engaging stories are followed by a Wise Practices section featuring seven significant contemporary case study summaries. Restorying promotes hope for the future, individual agency, and knowledge of successful community economic development based upon community assets. It is a diverse collection of iterative and future-oriented ways to achieve community growth that acknowledges the centrality of Indigenous culture and identity.
---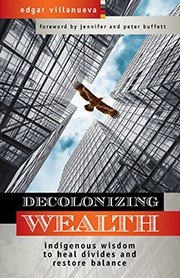 by Edgar Villanueva
Decolonizing Wealth is a provocative analysis of the dysfunctional colonial dynamics at play in philanthropy and finance. Award-winning philanthropy executive Edgar Villanueva draws from the traditions from the Native way to prescribe the medicine for restoring balance and healing our divides.
---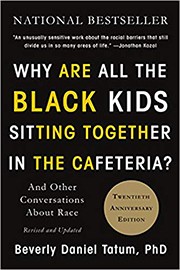 by Beverly Daniel Tatum
Walk into any racially mixed high school and you will see Black, White, and Latino youth clustered in their own groups. Is this self-segregation a problem to address or a coping strategy? Beverly Daniel Tatum, a renowned authority on the psychology of racism, argues that straight talk about our racial identities is essential if we are serious about enabling communication across racial and ethnic divides. These topics have only become more urgent as the national conversation about race is increasingly acrimonious. This fully revised edition is essential reading for anyone seeking to understand the dynamics of race in America.
---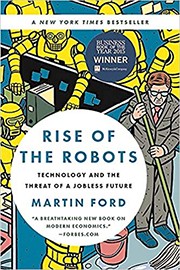 by Martin Ford
What are the jobs of the future? How many will there be? And who will have them? As technology continues to accelerate and machines begin taking care of themselves, fewer people will be necessary. Artificial intelligence is already well on its way to making "good jobs" obsolete: many paralegals, journalists, office workers, and even computer programmers are poised to be replaced by robots and smart software. As progress continues, blue and white collar jobs alike will evaporate, squeezing working- and middle-class families ever further. At the same time, households are under assault from exploding costs, especially from the two major industries- education and health care- that, so far, have not been transformed by information technology. The result could well be massive unemployment and inequality as well as the implosion of the consumer economy itself. The past solutions to technological disruption, especially more training and education, aren't going to work. We must decide, now, whether the future will see broad-based prosperity or catastrophic levels of inequality and economic insecurity. Rise of the Robots is essential reading to understand what accelerating technology means for our economic prospects- not to mention those of our children- as well as for society as a whole.
---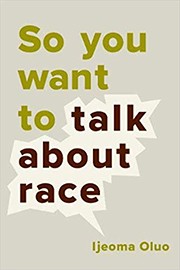 by Ijeoma Oluo
Ijeoma Oluo offers a hard-hitting but user-friendly examination of race in America. Widespread reporting on aspects of white supremacy — from police brutality to the mass incarceration of African Americans — have made it impossible to ignore the issue of race. Still, it is a difficult subject to talk about. How do you tell your roommate her jokes are racist? Why did your sister-in-law take umbrage when you asked to touch her hair — and how do you make it right? How do you explain white privilege to your white, privileged friend? In So You Want to Talk About Race, Ijeoma Oluo guides readers of all races through subjects ranging from intersectionality and affirmative action to "model minorities" in an attempt to make the seemingly impossible possible: honest conversations about race and racism, and how they infect almost every aspect of American life.
---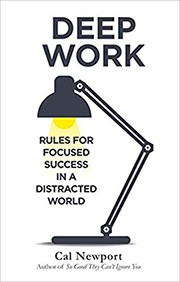 by Cal Newport
Deep work is the ability to focus without distraction on a cognitively demanding task. It's a skill that allows you to quickly master complicated information and produce better results in less time. Deep work will make you better at what you do and provide the sense of true fulfillment that comes from craftsmanship. In short, deep work is like a super power in our increasingly competitive twenty-first century economy. And yet, most people have lost the ability to go deep-spending their days instead in a frantic blur of e-mail and social media, not even realizing there's a better way. A mix of cultural criticism and actionable advice, Deep Work takes the reader on a journey through memorable stories and no-nonsense advice, such as the claim that most serious professionals should quit social media and that you should practice being bored.
---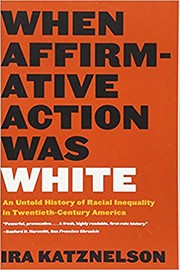 by Ira Katznelson
Ira Katznelson fundamentally recasts our understanding of twentieth-century American history and demonstrates that all the key programs passed during the New Deal and Fair Deal era of the 1930s and 1940s were created in a deeply discriminatory manner. Through mechanisms designed by Southern Democrats that specifically excluded maids and farm workers, the gap between black and white people actually widened despite postwar prosperity. In the words of noted historian Eric Foner, "Katznelson's incisive book should change the terms of debate about affirmative action, and about the last seventy years of American history."
---
by Erik Brynjolfsson and Andrew McAfee
In The Second Machine Age MIT's Erik Brynjolfsson and Andrew McAfee reveal the forces driving the reinvention of our lives and our economy. As the full impact of digital technologies is felt, we will realize immense bounty in the form of dazzling personal technology, advanced infrastructure, and near-boundless access to the cultural items that enrich our lives. Amid this bounty will also be wrenching change. Professions of all kinds―from lawyers to truck drivers―will be forever upended. Companies will be forced to transform or die. Recent economic indicators reflect this shift: fewer people are working, and wages are falling even as productivity and profits soar. Drawing on years of research and up-to-the-minute trends, Brynjolfsson and McAfee identify the best strategies for survival and offer a new path to prosperity.
---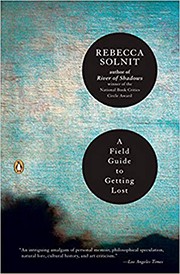 by Rebecca Solnit
Written as a series of autobiographical essays, A Field Guide to Getting Lost draws on emblematic moments and relationships in Rebecca Solnit's life to explore issues of uncertainty, trust, loss, memory, desire, and place. Solnit is interested in the stories we use to navigate our way through the world, and the places we traverse, from wilderness to cities, in finding ourselves, or losing ourselves. While deeply personal, her own stories link up to larger stories, from captivity narratives of early Americans to the use of the color blue in Renaissance painting, not to mention encounters with tortoises, monks, punk rockers, mountains, deserts, and the movie Vertigo. The result is a distinctive, stimulating voyage of discovery.
---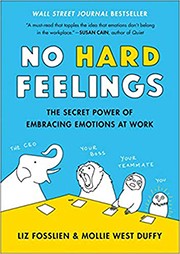 by Liz Fosslien and Mollie West Duffy
The modern workplace can be an emotional minefield, filled with confusing power structures and unwritten rules. We're expected to be authentic, but not too authentic. Professional, but not stiff. Friendly, but not an oversharer. Easier said than done! As both organizational consultants and regular people, we know what it's like to experience uncomfortable emotions at work — everything from mild jealousy and insecurity to panic and rage. Ignoring or suppressing what you feel hurts your health and productivity — but so does letting your emotions run wild. Our goal in this book is to teach you how to figure out which emotions to toss, which to keep to yourself, and which to express in order to be both happier and more effective.
---
by Safi Bahcall
Loonshots reveals a surprising new way of thinking about the mysteries of group behavior that challenges everything we thought we knew about nurturing radical breakthroughs. Drawing on the science of "phase transitions," Bahcall shows why teams, companies, or any group with a mission will suddenly change from embracing wild new ideas to rigidly rejecting them. Using examples that range from the spread of fires in forests to the hunt for terrorists online, and stories of thieves and geniuses and kings, Bahcall shows how this new kind of science helps us understand the behavior of companies and the fate of empires. Loonshots distills these insights into lessons for creatives, entrepreneurs, and visionaries everywhere.
---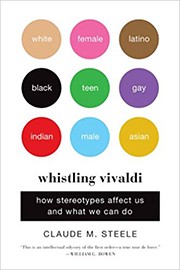 by Claude M. Steele
Claude Steele shares the experiments and studies that show, again and again, that exposing subjects to stereotypes impairs their performance in the area affected by the stereotype. Steele's conclusions shed new light on a host of American social phenomena, from the racial and gender gaps in standardized test scores to the belief in the superior athletic prowess of black men. Steele explicates the dilemmas that arise in every American's life around issues of identity, from the white student whose grades drop steadily in his African American Studies class to the female engineering students deciding whether or not to attend predominantly male professional conferences. Whistling Vivaldi offers insight into how we form our senses of identity and ultimately lays out a plan for mitigating the negative effects of "stereotype threat" and reshaping American identities.
---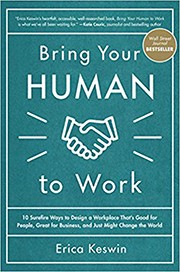 by Erica Keswin
As human beings, we are built to connect and form relationships. So, it should be no surprise that relationships must also translate into the workplace, where we spend most of our time. Companies that recognize this will retain the most productive, creative, and loyal employees, and invariably seize the competitive edge. The most successful leaders are those who actively form quality relationships with their employees, who honor fundamental human qualities―authenticity, openness, and basic politeness―and apply them day in and day out. Paying attention and genuinely caring about the effects people have on one another other is key to developing a winning culture where people perform at the top of their game and want to work.
---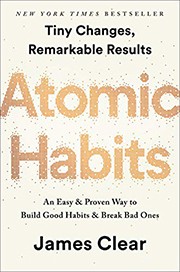 by James Clear
Atomic Habits offers a proven framework for improving and will teach you exactly how to form good habits, break bad ones, and master the tiny behaviors that lead to remarkable results. Atomic Habits will reshape the way you think about progress and success, and give you the tools and strategies you need to transform your habits — whether you are a team looking to win a championship, an organization hoping to redefine an industry, or simply an individual who wishes to quit smoking, lose weight, reduce stress, or achieve any other goal.
---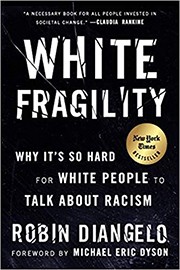 by Robin DiAngelo
In this "vital, necessary, and beautiful book" (Michael Eric Dyson), antiracist educator Robin DiAngelo deftly illuminates the phenomenon of white fragility and "allows us to understand racism as a practice not restricted to 'bad people' (Claudia Rankine). Referring to the defensive moves that white people make when challenged racially, white fragility is characterized by emotions such as anger, fear, and guilt, and by behaviors including argumentation and silence. These behaviors, in turn, function to reinstate white racial equilibrium and prevent any meaningful cross-racial dialogue. In this in-depth exploration, DiAngelo examines how white fragility develops, how it protects racial inequality, and what we can do to engage more constructively.
---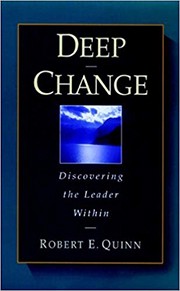 by Robert E. Quinn
Don't let your company kill you! Open this book at your own risk. It contains ideas that may lead to a profound self-awakening. An introspective journey for those in the trenches of today's modern organizations, Deep Change is a survival manual for finding our own internal leadership power. By helping us learn new ways of thinking and behaving, it shows how we can transform ourselves from victims to powerful agents of change. And for anyone who yearns to be an internally driven leader, to motivate the people around them, and return to a satisfying work life, Deep Change holds the key.
---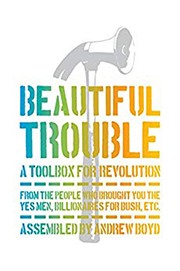 by Andrew Boyd and Dave Oswald Mitchell
Beautiful Trouble brings together dozens of seasoned artists and activists from around the world to distill their best practices into a toolbox for creative action. Sophisticated enough for veteran activists, accessible enough for newbies, this compendium of troublemaking wisdom is a must-have for aspiring changemakers. Showcasing the synergies between artistic imagination and shrewd political strategy, Beautiful Trouble is for everyone who longs for a more beautiful, more just, more livable world — and wants to know how to get there.
---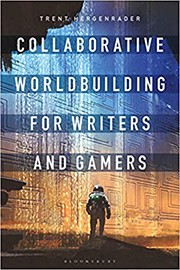 by Trent Hergenrader
The digital technologies of the 21st century are reshaping how we experience storytelling. More than ever before, storylines from the world's most popular narratives cross from the pages of books to the movie theatre, to our television screens and in comic books series. Plots intersect and intertwine, allowing audiences many different entry points to the narratives. In this sometimes bewildering array of stories across media, one thing binds them together: their large-scale fictional world. Collaborative Worldbuilding for Writers and Gamers describes how writers can co-create vast worlds for use as common settings for their own stories. Using the worlds of Star Wars, Lord of the Rings, A Game of Thrones, and Dungeons & Dragons as models, this book guides readers through a step-by-step process of building sprawling fictional worlds complete with competing social forces that have complex histories and yet are always evolving. It also shows readers how to populate a catalog with hundreds of unique people, places, and things that grow organically from their world, which become a rich repository of story making potential.
---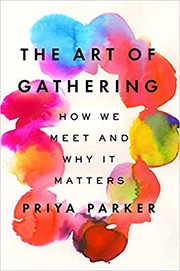 by Priya Parker
In The Art of Gathering, Priya Parker argues that the gatherings in our lives are lackluster and unproductive — which they don't have to be. We rely too much on routine and the conventions of gatherings when we should focus on distinctiveness and the people involved. At a time when coming together is more important than ever, Parker sets forth a human-centered approach to gathering that will help everyone create meaningful, memorable experiences, large and small, for work and for play. The result is a book that's both journey and guide, full of exciting ideas with real-world applications. The Art of Gathering will forever alter the way you look at your next meeting, industry conference, dinner party, and backyard barbecue — and how you host and attend them.
---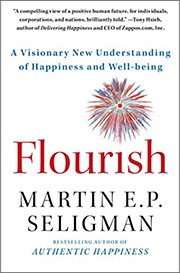 by Martin E.P. Seligman
Flourish builds on Seligman's game-changing work on optimism, motivation, and character to show how to get the most out of life, unveiling an electrifying new theory of what makes a good life — for individuals, for communities, and for nations. In a fascinating evolution of thought and practice, Flourish refines what Positive Psychology is all about. With interactive exercises to help readers explore their own attitudes and aims, Flourish is a watershed in the understanding of happiness as well as a tool for getting the most out of life.
---
So, what's on your summer reading list?
More posts by Tim Cynova
About Tim Cynova
Tim wears a multitude of hats, all in service of creating anti-racist workplaces where people can thrive. He currently is co-CEO of Fractured Atlas (an entirely virtual organization with staff spread across multiple states and countries) and a Principal of the consulting group Work. Shouldn't. Suck. He serves on the faculty of Banff Centre for Arts & Creativity and The New School teaching courses in People-Centric Organizational Design; he's a trained mediator, and a certified Senior Professional in Human Resources (SPHR). Earlier in his career, Tim was the Executive Director of The Parsons Dance Company and of High 5 Tickets to the Arts in New York City, had a memorable stint with the Cincinnati Symphony Orchestra, was a one-time classical trombonist, musicologist, and for five years in his youth he delivered newspapers for the Evansville, Indiana Courier-Press. Also, during a particularly slow summer, he bicycled 3,902 miles across the United States.