Last week, the Trump Administration rolled back protections for transgender students. The issue of trans people and their use of bathrooms is much bigger than mere septic concerns, this debate is fundamentally about trans people's right to exist in public space. We, at Fractured Atlas, believe emphatically that trans people's stories deserve to be given equal weight and access in the public commons, as well as the cultural landscape. That's why we're proud to support these fierce trans arts projects.
---
Crossing Over is the story of three transgender immigrants from Mexico seeking political asylum in the United States from the physical, emotional, and sexual abuse inflicted on them in their homeland.
Stigmatized by religious and patriarchal powers within their community, the transgender community in Mexico finds acceptance elusive and jobs nonexistent. Francis Murillo, Brenda Gonzalez, and Abigail Madariaga — the three women who let us into their lives for Crossing Over — have been denied work because of their refusal to hide who they are. They have been sexually abused by police, neighbors, and by their own family members.
It's difficult enough for undocumented immigrants to find safe work and a living wage once they arrive in the United States — but the transgender men and women among them have an even harder time. Many resort to working in the sex industry, where their chances of being exposed to HIV and developing drug addictions greatly increase. Abigail became addicted to drugs while working as a prostitute, and Brenda contracted HIV. Both women have been more successful finding treatment since being granted political asylum 2008.With the support of organizations and legal assistance, Francis, Brenda and Abigail now have safe, stable jobs.
Francis has yet to receive asylum. Her final hearing is scheduled for February 13, 2012, and will determine whether or not she is eligible to stay in the United States. If she is denied, she will be deported and sent back to Mexico.
Visible Bodies: Transgender Narratives Retold is a community arts initiative that partners with cities and towns to create photography projects highlighting trans individuals in those locations.
Our first project was completed in San Diego in May 2013, and was incredibly well received. Following the success of Visible Bodies: San Diego, organizers in Minneapolis took up the cause and began production there. Projects are planned in Portland and Berlin as well.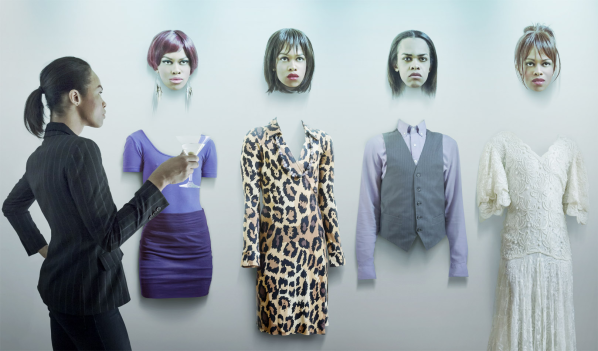 André St. Clair is America's Gender NonConFormist personality, interdisciplinary artist, speaker and transgender activist. André St. Clair possesses a wealth of knowledge that she combines with his feminine glamour and uncanny ability to make others comfortable speaking about even the most taboo of subjects. André St. Clair builds a platform to promote a new gender and sexual revolution of acceptance and self-love with an intricate use of media, performance, writings, speeches and activism. You can always invite her to speak with your community.
Kit Yan Productions is a Queer Asian Production Company whose mission is to further LGBTQ Asian American arts through original content. We focus specifically on underrepresented voices from the transgender community.
A Self-Made Man is a feature length documentary that takes a candid look at what it means to be transgender, told through an intimate portrait of trans youth advocate Tony Ferraiolo.
Gender identity first appears in childhood and some kids feel that they were born in the wrong body. It is a scary time for both them and their parents as they make the transition journey from one gender to the other. This is a film about someone who helps them get there safely.
HOUSE OF MAYHEM is a raw, unflinching television series capturing a part of city life too often ignored: bullied, abandoned gay and transgender teenagers and the adults who care about them. It's a street-smart story set in New York City about an alternative family with its own set of values.
Based on writer David Pumo's Award-winning play and his experiences working with homeless youth, the series opens a window into the lives of LGBT teens rejected by their own families and struggling to survive on the streets, or languishing in an abusive foster care system. Between 40 and 50 percent of the homeless kids in cities around the US identify as LGBT. Forced out of their homes and neighborhoods, couch surfing or sleeping in subway cars and abandoned buildings, they rely on prostitution or petty crimes to survive.
Despite tremendous, recent social progress, kids who are out of the closet in record numbers are facing backlash like never before in history from their families, communities and schools. Recent funding cuts have also sliced deeply into the few social services that target LGBT youth. Over the past few years, light has been shed on LGBT teen bullying and suicide. But the runaways and throwaways still go largely unacknowledged.
HOUSE OF MAYHEM sheds a new light on this sorely neglected population and a social service system badly in need of change.