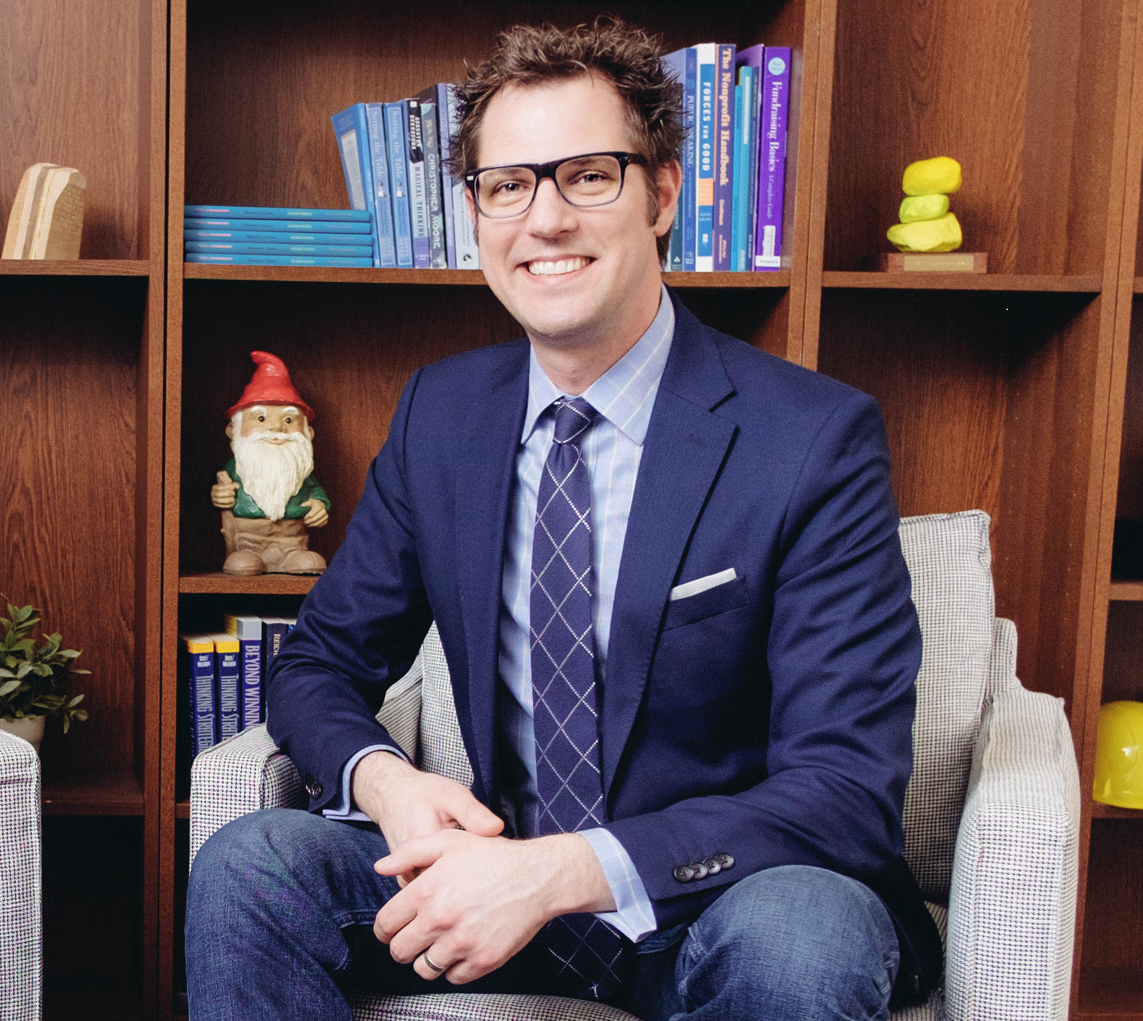 Post by Tim Cynova
How We Work
Big Ideas | How We Work | Employee Engagement | People Operations | Human Resources
A Guide to Working at Fractured Atlas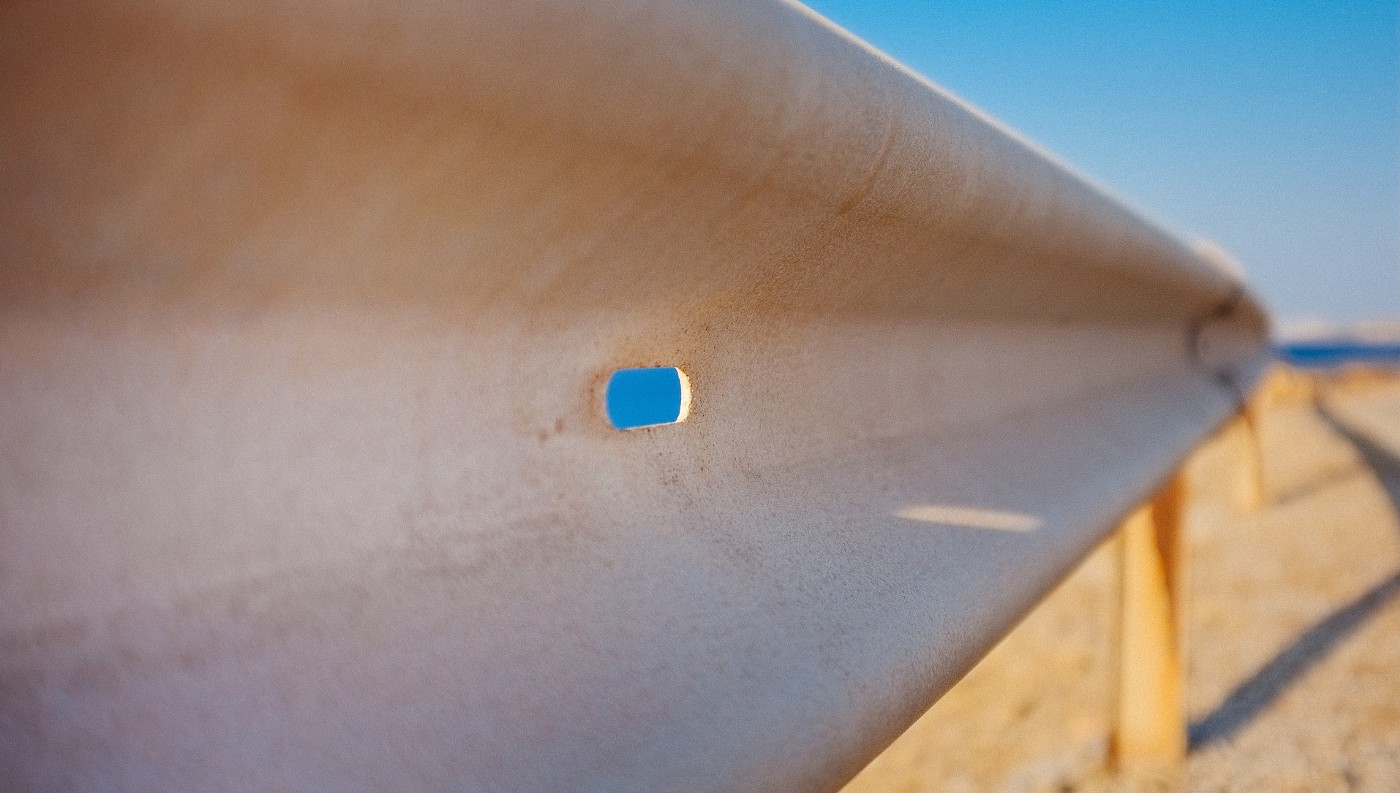 This week Fractured Atlas published How We Work: A Guide to Working at Fractured Atlas. It's a document that's been in the making ever since we opened our doors in 1998, and it's the result of years of conversations, research, experimenting, and iterating. Within minutes of publishing, we were already tinkering with it, a nod to the ever-changing nature of life at Fractured Atlas.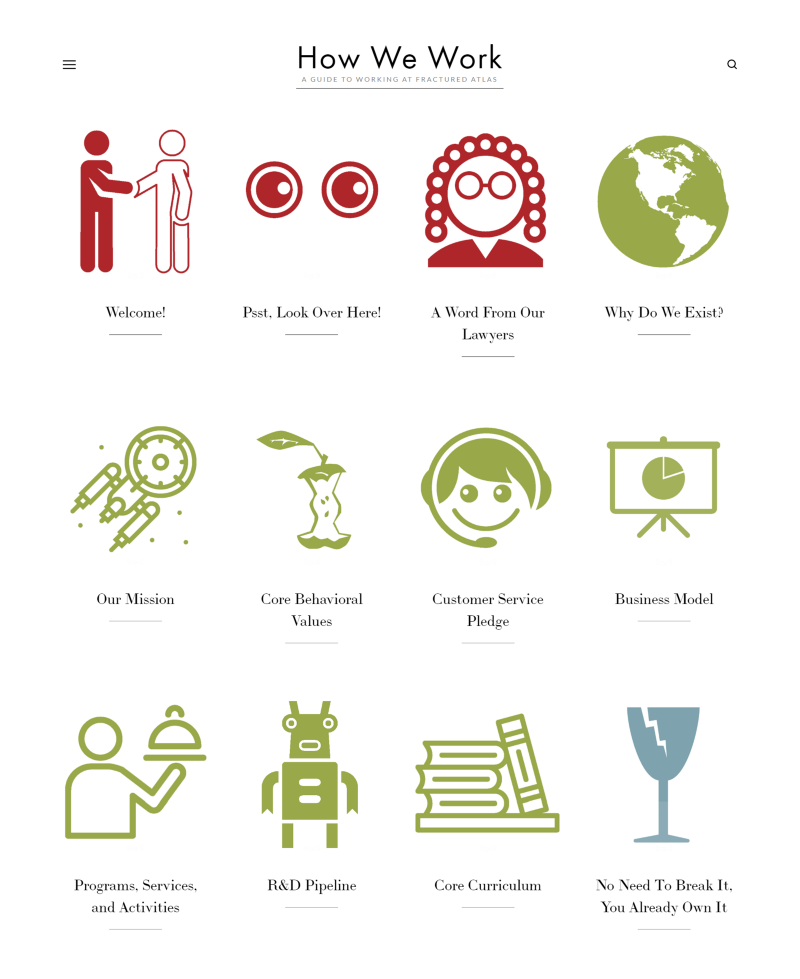 Why publish this document publicly? Why not? What's so special and sacred about workplace policies, values, and culture that we often keep them under lock and key? Every company has core values whether they articulate them or not. Every organization has a set of guard rails that guide its work. (Those guard rails might be close together or miles apart, but they still exist.) Our organizations, and the cultural sector, benefit from articulating these things and sharing the information so we can all borrow and iterate on the ideas like any talented artist (I'm looking at you Benjamin Britten and your Young Person's Guide to the Orchestra).
Maybe you're interested in a job at Fractured Atlas and curious about what it's like to work here. Maybe you've heard whispers of Fractured Atlas's unlimited day off policy. Maybe you've heard about our R&D pipeline for the exploration and development of new products and services. We thought the time had come to put pencil to paper, and then, uh, publish that content as a website.
It seems we're constantly talking about workplace culture at Fractured Atlas. What do people need to do their best work? How can we find meaning and purpose in our work? If this isn't the job you love anymore, can you craft the one you want out of the one you have? If not, where do you want to go and how can your time at Fractured Atlas help you get there? How can teams operate with trust and respect while also embracing healthy conflict? We talk about shared purpose — change the world — and shared identity — Waffle Wednesdays (usually on Thursdays) — and about what it means to have a workplace environment where you're more frequently than not building the plane while flying it.
Our office library includes dog-eared copies of Good to Great, Nuts!, Maverick, The Hard Things About Hard Things, Delivering Happiness, Zingerman's Staff Guide, How to Measure Anything, Multipliers, The Purpose Economy, The Advantage, Give & Take, Who: The A Guide to Hiring, Remote: Office Not Required, and countless others related titles.
We talk about what it means for our company culture and the office environment when 75% of staff work remotely at least one day a week, with 25% of staff fully remote in ten different states. Is it possible to equalize the experience so rather than onsite versus offsite, people feel they all work for the same organization and are committed to the same purpose?
How We Work isn't a template, not even for Fractured Atlas. If we were to relaunch the company today it would be a mistake to take this document as gospel and adopt it without question. Just like trying to be Google doesn't work for Fractured Atlas, trying to be Fractured Atlas circa 2002 doesn't work for Fractured Atlas circa 2016. Would we borrow and iterate on some of the policies, probably. Some of them have withstood the test of time. Others? Still in the experimental phase and might not make the cut.
Lastly, does each person at Fractured Atlas wholeheartedly agree that — from their personal perspective — How We Work accurately reflects their work experience? No. Like most things we do at Fractured Atlas, smart, opinionated, talented people disagree. People disagree about how to go about accomplishing something. People disagree about the speed at which things should be attempted. Show me 35 smart, talented, insightful people who all totally agree about everything. Does that mean we wait for perfect alignment and consensus? No. We head down a path that is directionally correct and make adjustments as we go.
Please take a gander, and then, if they don't already, encourage your organization to publish what it's like to work there. Openness and transparency help us all. It helps fuel the conversation so we can become stronger organizations and a stronger sector. Ultimately, it helps us create better, more fulfilling and supportive places to work that make bigger dents in the universe. Share away!
More posts by Tim Cynova
About Tim Cynova
Tim spends his time assisting teams and organizations with the things they need to create innovative workplaces where people thrive. He is a certified Senior Professional in Human Resources (SPHR), a trained mediator, on faculty at Banff Centre for Arts & Creativity and New York's The New School teaching courses in Strategic HR and Leadership & Team Building. He is a certified trainer of the Crucial Conversations and What Motivates Me frameworks, and is a firm believer that Work. Shouldn't. Suck. He currently serves as the Chief Operating Officer of Fractured Atlas (where he is a member of the organization's four-person, non-hierarchical shared leadership team). Prior to that, Tim was the Executive Director of The Parsons Dance Company and of High 5 Tickets to the Arts, had a memorable stint with the Cincinnati Symphony Orchestra, was a one-time classical trombonist, musicologist, and for five years in his youth he delivered newspapers for the Evansville Courier-Press. Also, during a particularly slow summer, he bicycled across the United States.